We locked a small group of landscape business owners in a hotel room for 2 1/2 days…
The goal was to help each company build a financial plan for 2021. One that helps improve profits.
We've been holding these Profit Builder events since 2010. Over 400 (uniquely owned) landscape companies have graduated from our training. During these events, we dive deep in the numbers.
It really doesn't matter if the company is a new start-up with $100k in annual sales or $10 million in annual sales, we see the same mistakes in pricing lawn services time and time again.
I thought you would like to learn about the two biggest pricing mistakes that destroy landscaper's profits and…
Most importantly…
What YOU can do to fix this goof-up in your own business before it costs you your entire company.
Landscaper's Pricing Mistake #1…
Underestimating labor hours is the single biggest, most painful pricing mistake made by landscapers.
Most landscape business owners are smart. They work really hard. They are willing to put in long hours and do their best to care for customers.
However…many get in too big of a hurry when pricing their lawn and landscape work. Many skip over important details to accurately forecast labor hours in the estimating process.
Here are a few ways you might be underestimating labor hours.
The morning circus mistake…
Loading your equipment, loading job materials and supplies onto your truck is a daily chore for most lawn and landscape companies. So where is this allotment of time built into your price?
Did you list "load time" on your estimate worksheet and share your labor hours for this task with your crew and customers?
Failure to account for loading equipment, materials and supplies (like getting the fuel you need for the day) leads to underestimating labor hours.
The drive-time mistake…
Mobilization to and from the job site costs YOU money. You have to pay your people for every hour they work. Most lawn and landscape company owners understand this principle.
Further, driving to and from job sites varies significantly from job to job. One job might be located right down the street. The next job might be over in the next town. Drive time is a variable cost that must be adjusted on a job-by-job basis.
Unfortunately, many do not have a way to capture these labor hours inside their estimating process. They think they have to cover the mobilization cost inside their hourly rate.
Please…make sure you calculate your drive time and accurately forecast the labor hours to drive to and from job sites. Always figure drive time for every day you work on a job and for every trip on every visit to every account…even if it's just a few minutes!
The lazy landscaper mistake…
Anyone can become an expert in forecasting labor hours if they are willing to collect accurate field measurements (or get accurate landscape plan take-offs).
A lazy landscaper skips measuring the square footage of turf. They skip counting the shrubs. They never put in the effort to measure the linear feet of edging or calculate the exact square footage of bed areas.
They look at the job and say to themselves, "I think this job is going to require X hours (or days)." They estimate from the gut!
Wealthy Landscapers utilize production rate based estimating to accurately forecast the labor requirements of any tasks they plan to provide a customer.
The Wealthy Landscaper always carries a measuring wheel on estimates, uses it to collect accurate field data and makes sure the wheel is functioning correctly.
Here's an example of how you can forecast the labor requirements to mow a lawn using production rate based estimating.
Let's say you measure the amount of turf to mow. You carefully measure the lawn area with your measuring wheel, omitting hard surface areas like driveways or walkways. You omit bed areas or natural areas like wooded spaces that don't have turf. You measure section by section and calculate there is 55,000 square feet of turf.
Based on the site conditions, you think it will be appropriate to mow with your 60″ ZTR lawn mower.
You know that based on the turf type on the property, you can mow at a rate of 2 acres per hour. (This is your production rate for mowing with the 60" ZTR mower).
You decide to offer a 40 visit annual mowing program for your prospect.
Here's the math to calculate the labor hours for mowing:
1) How much turf will we mow for the 40 visit service?
55,000 sq ft turf X 40 cuts = 2,200,000 sq ft of turf per year
2) We must convert square footage to acres. 1 acre = 43,560 sq ft
2,200,000 sq ft of turf / 43,560 sq ft per acre = 50.50 acres of turf per year
3)    We calculate the labor hours required to do the task.
50.50 acres of turf / 2 acres per hour = 25.25 hours to mow the turf
Production rate based estimating is a science. You can accurately predict labor hours using this method for ANY lawn or landscape task you plan to provide your customer.
You can repeat this process for every task you plan to provide on a job. The labor requirements for pruning shrubs, edging, weed eating, installing mulch, planting shrubs, installing brick pavers, installing sprinkler systems and hanging Christmas lights can be estimated using this production rate based process.
If you've never heard of production rate based estimating OR if you would like to improve your production rate based estimating, I recommend you get a copy of The Complete Business Manual for Landscape & Irrigation Contractors book. The Production Rates chapter is a goldmine of information to help you forecast labor. Order online here.
Chapter 23, The Production Rates section, has 241 tasks and production rates for residential and commercial applications for each task. This is an essential resource for anyone who estimates lawn services, landscaping, irrigation, hardscaping, or site work businesses.
Listen…Underestimating labor destroys wealth. Over-estimating labor prevents growth in sales. Estimating labor correctly can make you a Wealthy Landscaper. 
Landscaper's Pricing Mistake #2…
Under estimating equipment costs is the second biggest, and second most painful pricing mistake made by landscapers.
In the example above, I showed you how to forecast labor hours using accurate field measurements and production rate based estimating.
This method removes the "estimate from the gut" guess work from estimating and uses the science of math to predict labor hours.
Once you accurately predict labor hours, you can accurately predict equipment hours.
In this example, we know we will have to pay someone 22.25 hours to mow the lawn 40 times.
So…Your estimating process better pick up the costs to own, operate, repair, and fuel the mower for 22.25 hours…not an hour more…and not an hour less.
Once more…you can see how estimating equipment hours can be a precise science. In order to Price Right, you'll need to assign an hourly rate for the equipment assigned to the job.
Please keep reading…you are going to LOVE what comes next! 
How to create hourly rates for your equipment…
Your lawn mower, your truck, even your weed eater should have an hourly rate. More on this in a minute.
Failure to assign exact and accurate equipment hours to every task that requires equipment is a recipe for financial disaster!
After reviewing the estimating process of over 400 uniquely owned lawn and landscape companies, I can testify that over 75% have no idea how to properly predict the hours required for every piece of equipment used on a job. Production rate based estimating fixes the problem!
Next, you must assign an hourly rate for each piece of equipment on your equipment asset list. 
I'm about to make a statement that surprises many-a-landscape business owner…here it comes…
Equipment should NEVER COST YOU one thin dime!
You RENT your equipment to your customers on an hour-by-hour basis while you work on their property. 
About 25% of the landscape business owners that have attended my Profit Builder training event came to the class with hourly rates for their equipment. 75% of our students came through our class hoping they were covering their equipment using the magical "hourly rate".
Of the 25% that have assigned an hourly rate for each piece of equipment, 90% of those have made errors on their equipment hourly rates. 
And listen to this…
I have NEVER met a landscaper who was OVER-CHARGING for their equipment! Nope…not even one!
The guy who taught me had a PHD…
I first learned the science of calculating hourly rates for equipment when I attended the University of Georgia College of Agriculture. One of my ag engineering professors taught us how to properly calculate equipment hourly rates for farm tractors, tractor attachments and even farm assets like farm fences.
Later, I applied this technique to lawn and landscape equipment used in my lawn service business. 
Over a period of 19 years, as the owner of a lawn service business, we kept detailed records of the fuel consumption, repair costs and salvage value of lawn equipment. 
During my career, I purchased (or leased) over $2 million dollars worth of lawn and landscape equipment…so I have significant experience on this subject.
We were able to use real-time data to calculate very accurate hourly rates for our entire equipment list. Every piece of equipment, from trucks to dingos and even blowers were given an hourly rate to place in our estimates. 
I went so far as to put hour meters on string trimmers, blowers and stick edgers so we could collect accurate data on operating costs.
But here's what you need to know.
Having excellent records gives you confidence in estimating your equipment costs! And like I said earlier…I learned how to pass the cost for NEW equipment to the customer. 
====================
SPECIAL NOTE ABOUT EQUIPMENT: I don't believe, follow or recommend that you follow Dave Ramsey's advice on buying USED equipment. Why would I want to buy USED equipment that is subject to high repair cost and wealth-sucking down time? His advice may be appropriate for those who don't know their cost…but that's not for me! And…if you're really serious about your lawn and landscape business, don't get caught in the USED equipment trap!
===================
Becoming a Wealthy Landscaper is almost certain if you make sure you properly account for all of your equipment costs, then recover those costs through your estimating system.
Since we have witnessed how many landscapers struggle with calculating correct hourly rates for their equipment, we decided to share a video that explains the process. 
This equipment cost video is about four minutes long.
One word of caution…
If YOU are afraid of spreadsheets…or if you've never built or used a spreadsheet…don't be fearful! Invest in yourself Get yourself some training. 
Learning these techniques could make you a very Wealthy Landscaper!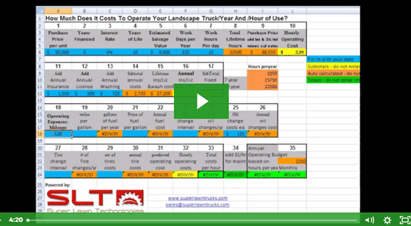 Don't Ignore Your Money!
Growing profits begins with a clear understanding of your costs of doing business. When you clearly understand your costs, you simply pass on those costs in a fair and appropriate manner to your customers through your price quotes.
Labor is your biggest risk in business! If you learn production rate based estimating, you'll become confident in predicting labor hours. And…as soon as you learn how to predict labor hours, your equipment hours will become just as accurate!
By the way…
I recommend you get a copy of The Complete Business Manual for Landscape & Irrigation Contractors book. The Equipment Rates chapter is a goldmine of information to help you forecast equipment rates. Order online here. 
Please remember…
I'll keep showing up, improving my skills as a practicing entrepreneur…and sharing the methods I've used to become a Wealthy Landscaper… every single day, while taking care of my clients.
I hope you will too!
If you need help growing profits…just send an email to Tony@TonyBassConsulting.com  and put "bigger profits" in the subject line. 
Then we will follow up shortly.
Profit Greatly,
Tony Bass, founder
866-923-0027
PS – The Complete Business Manual for Landscape & Irrigation Contractors book was written by one of my most respected teachers, Charles Vander Kooi.
When Mr. Vander Kooi passed away in the spring of 2016, I purchased the last remaining print copies of this book from his family estate. If you do not have this book in your personal library, you should get yourself a copy before the supply runs out.
Charles and I shot this video in October of 2015 just after he spoke at my Wealthy Landscaper Summit event. I had no idea he would be gone in just a few months.  Click here to watch this short video of Charles Vander Kooi and me from one of our last conversations.