All Super Lawn Trucks have a variety of options and features available.  Check out the packages below to find the solution that works for you! Remember, SLT can customize any truck to fit your specific needs! Fill out the form on the right/below to get a quote NOW!
Standard
Price: $68,913.00

NOW $61,893
Chassis:
FE404
2020 Isuzu, Single Cab, 6.0L Gas, 176in WB, 14500lbs GVWR, Automatic, A/C, PW/POL, AM/FM/CD, Fire Ext., Triangle Kit
Body:
18′ SLT ECO Body
Options Included in This Package :
Frame Prep/Relocation
Double Utility Shelf
Hand and Powertool Storage System
Hydra-Ramp System -SLT ECO (2500lb Weight Rating)
39/14 gal w/ Fuel Dispensing Nozzles
Locking Fuel Caps for Underbody Fuel System (2)
Payment Options:
60 Month Lease – 30% Residual: $886.31
72 Month Purchase – $1,160.49
60 Month Purchase – $1,201.11
ORDER NOW
Budget
Price: $59,472.00

NOW $52,907
Chassis:
DB304
2020 Isuzu, Single Cab, 6.0L Gas, 150in WB, 12000lbs GVWR, Automatic, A/C, PW/PDL, AM/FM/CD, Fire Ext.,Triangle Kit
Body:
16′ SLT ECO Body
Options:
Frame Prep/Relocation
Hydra-Ramp System – SLT ECO (2500lb Weight Rating)
Payment Options:
60 Month Lease – 30% Residual: $757.63
72 Month Purchase – $992.01
60 Month Purchase – $1,027.43
Custom Quote Request
Options:
Isuzu Single or Crew Cab
Gas or Diesel
12-24 foot bodies
Truck Body Side Door(s)
Loading Ramps
Variety of weight capacities for bodies and ramps
Accessories like Tool boxes, Fueling Stations, On Board Back Up Cameras and many more.  Custom Designs Available!
Request Custom Quote
All Models are available with Crew or Single Cabs & Gas or Diesel. Check out the options below!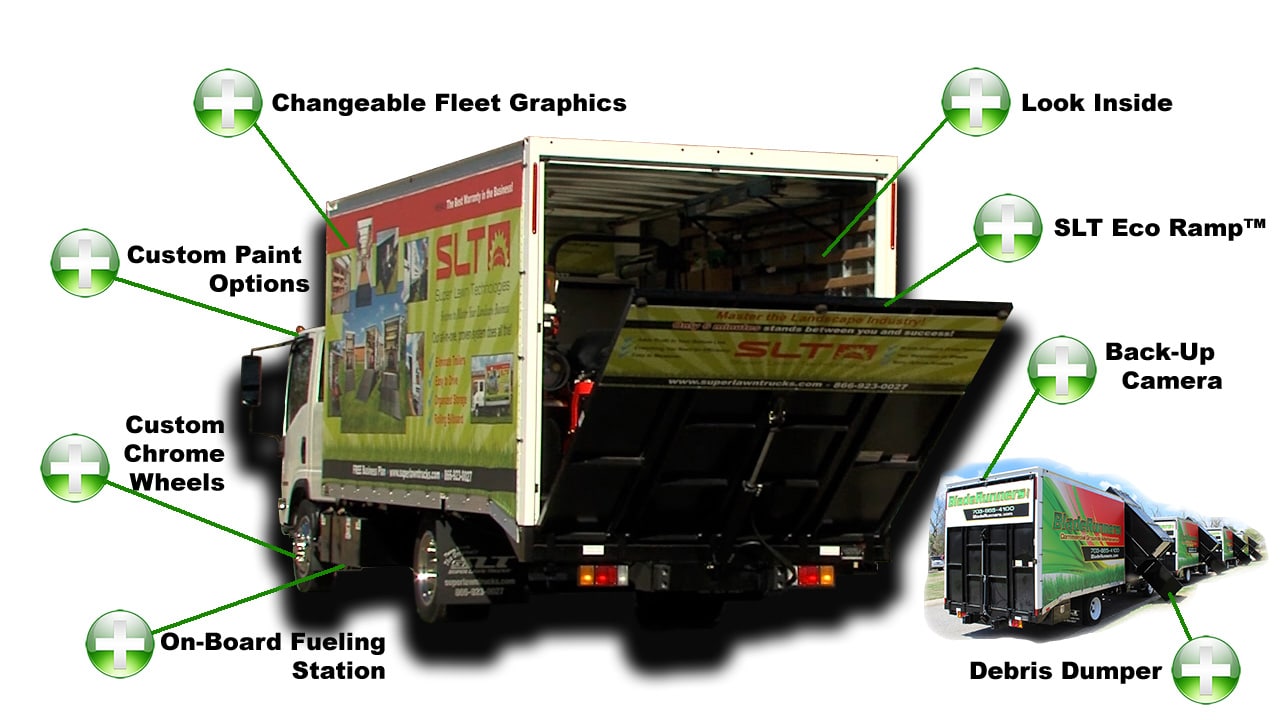 Changeable Fleet Graphics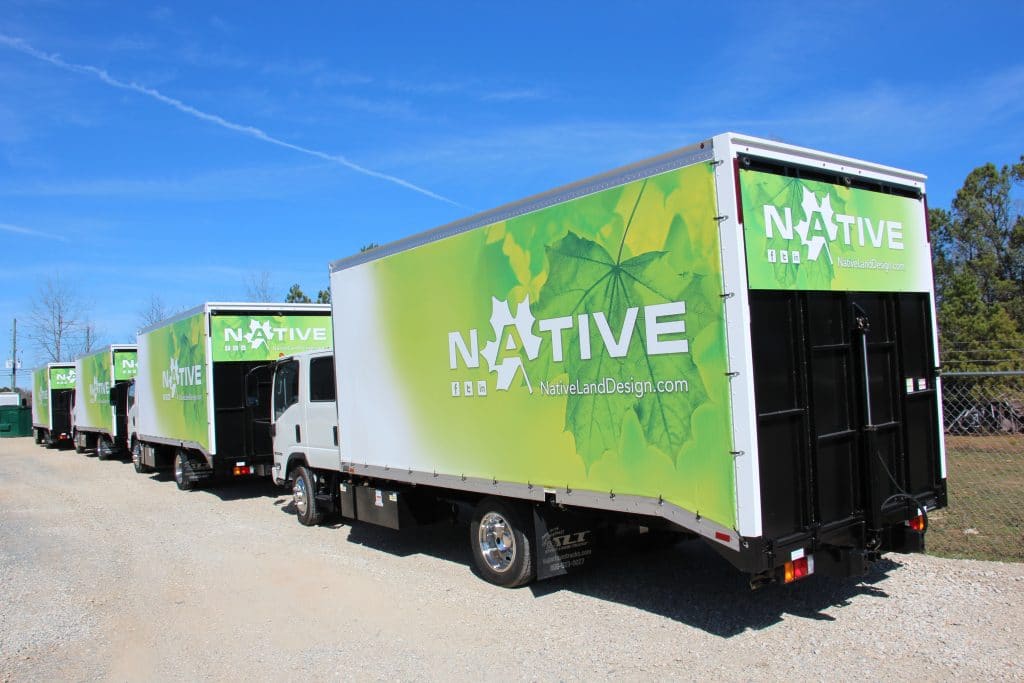 On-Board Fueling Stations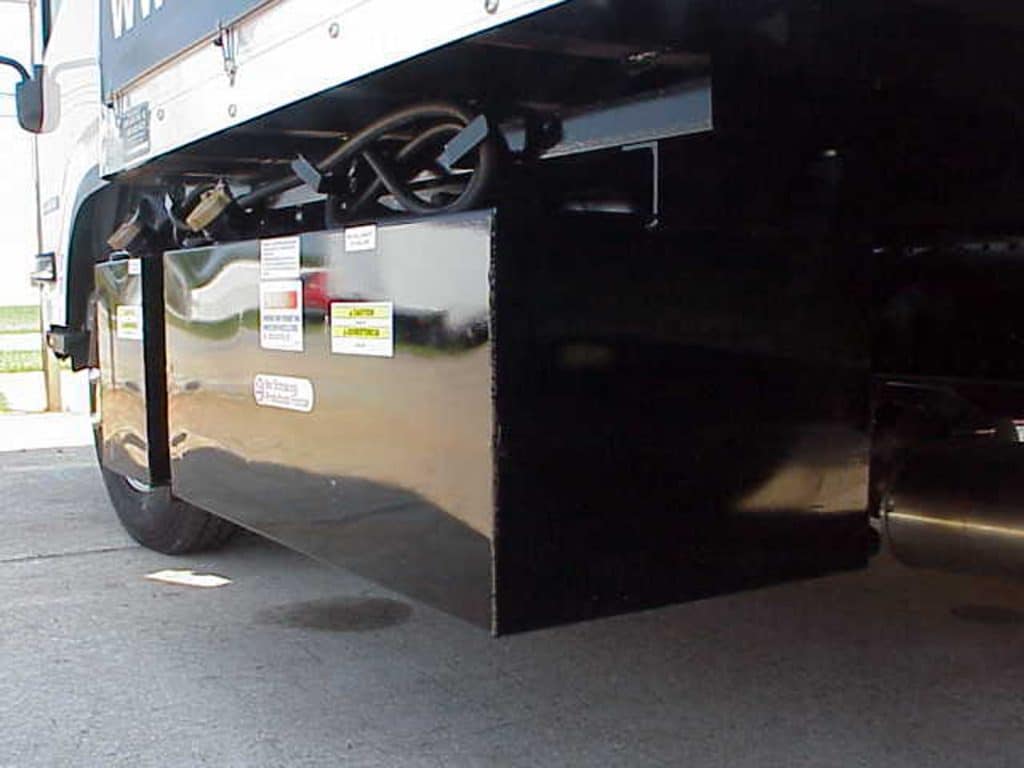 Enough Fuel for an Entire Week-On-Board the Super Lawn Truck! Watch the video-Click Here!
Super Custom Paint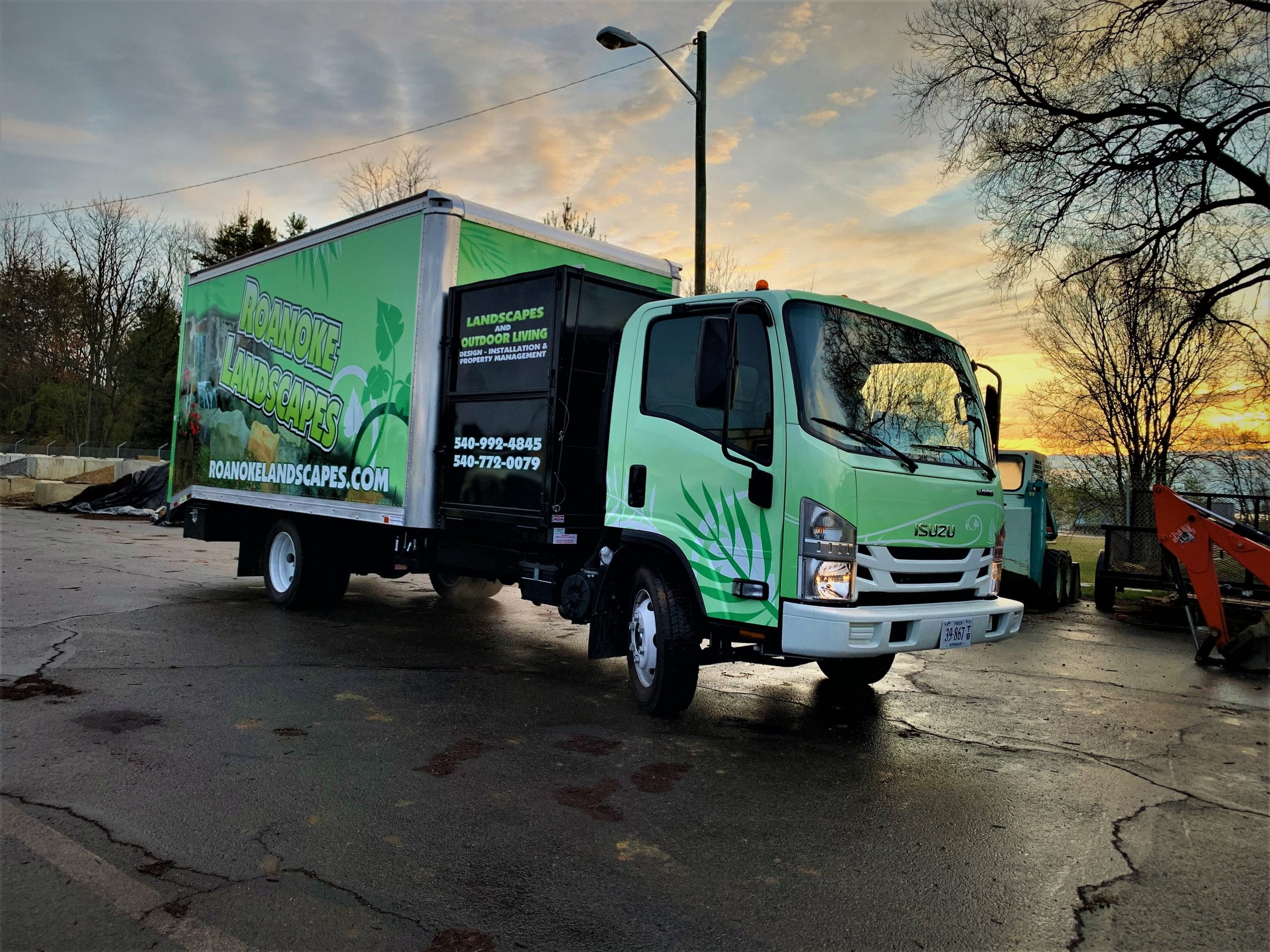 The SLT Eco-Ramp™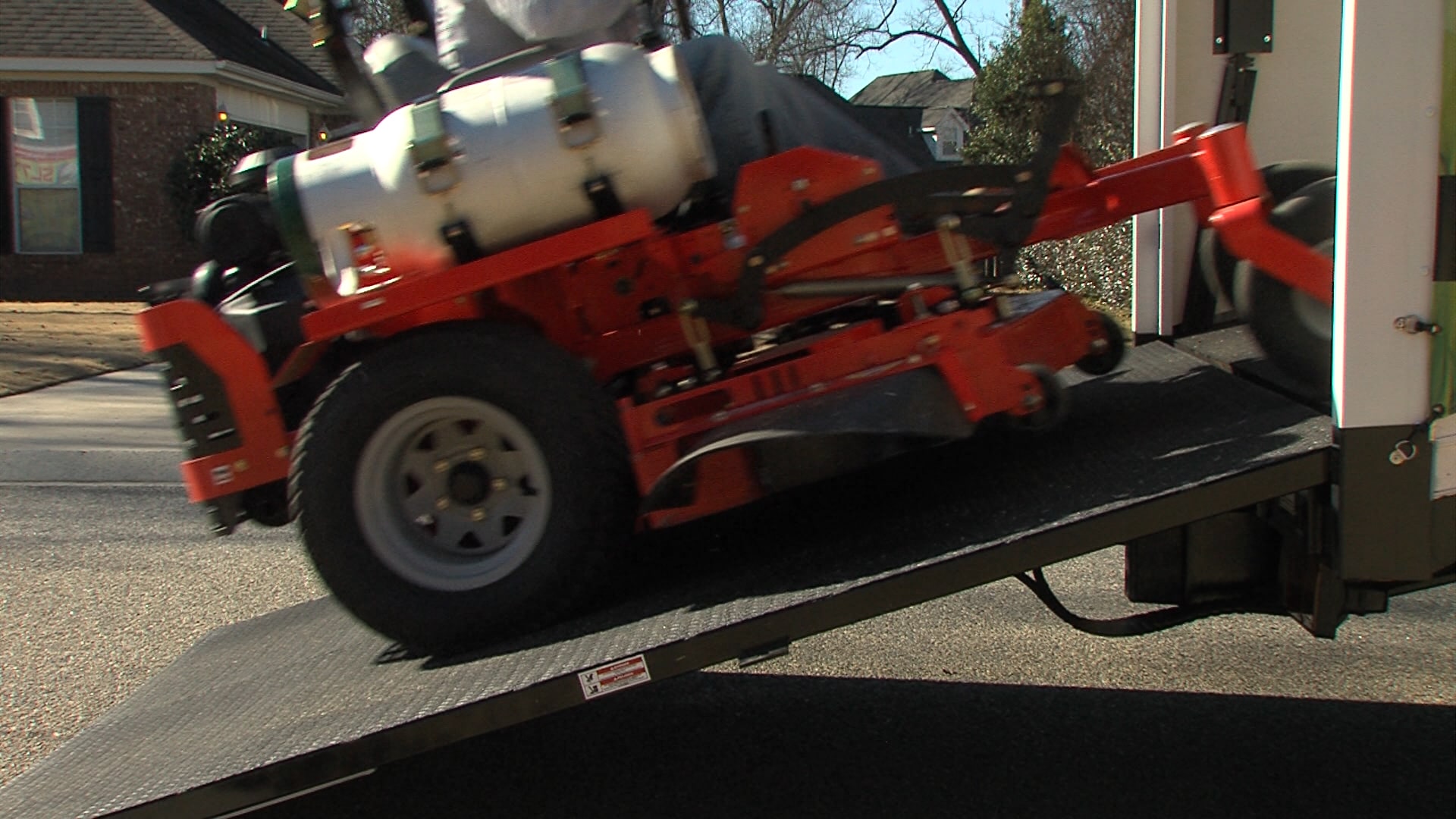 Check out the incredible Super Lawn Technologies Eco-Ramp™! Click Here!
Back-Up Camera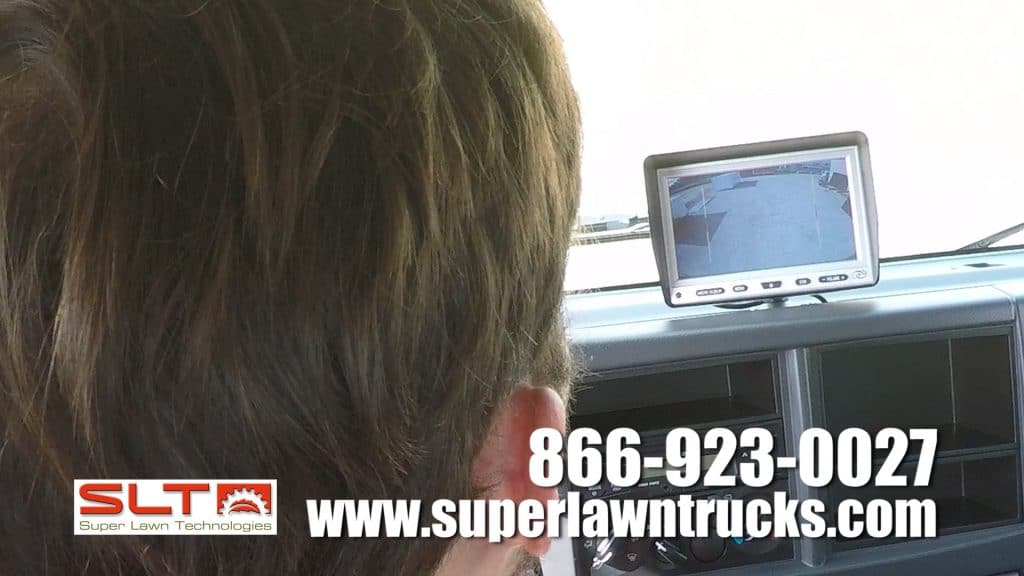 Custom Chrome Wheels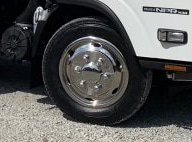 Super Custom Chrome Wheels add some shine to your Super Lawn Truck! Call us at 866-923-0027!
Super Lawn Technologies Debris Dumper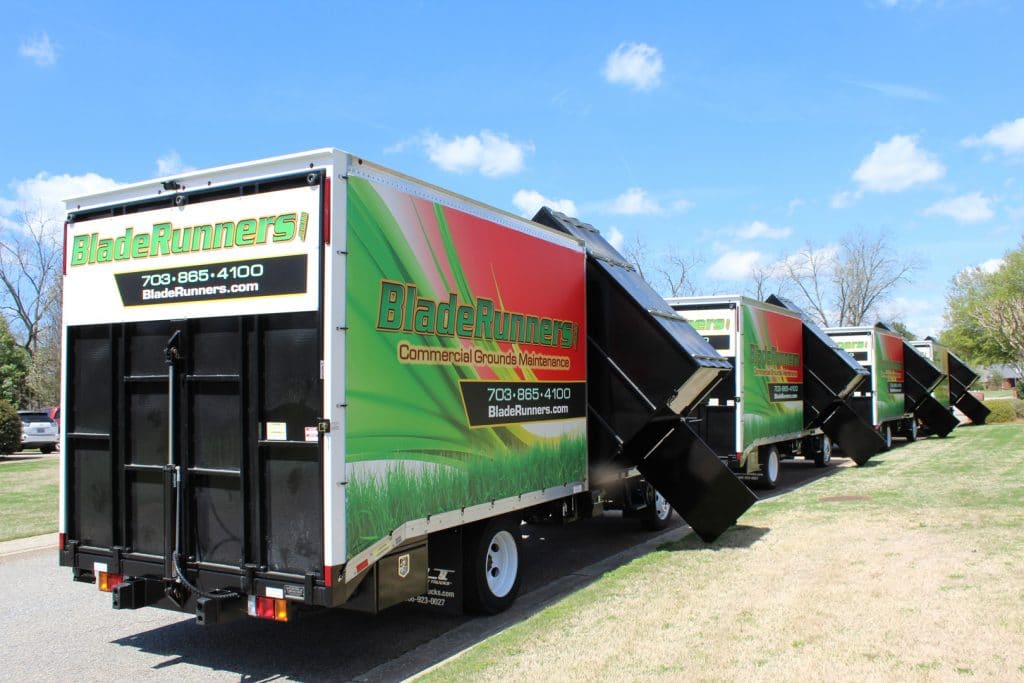 Hand & Power Tool Storage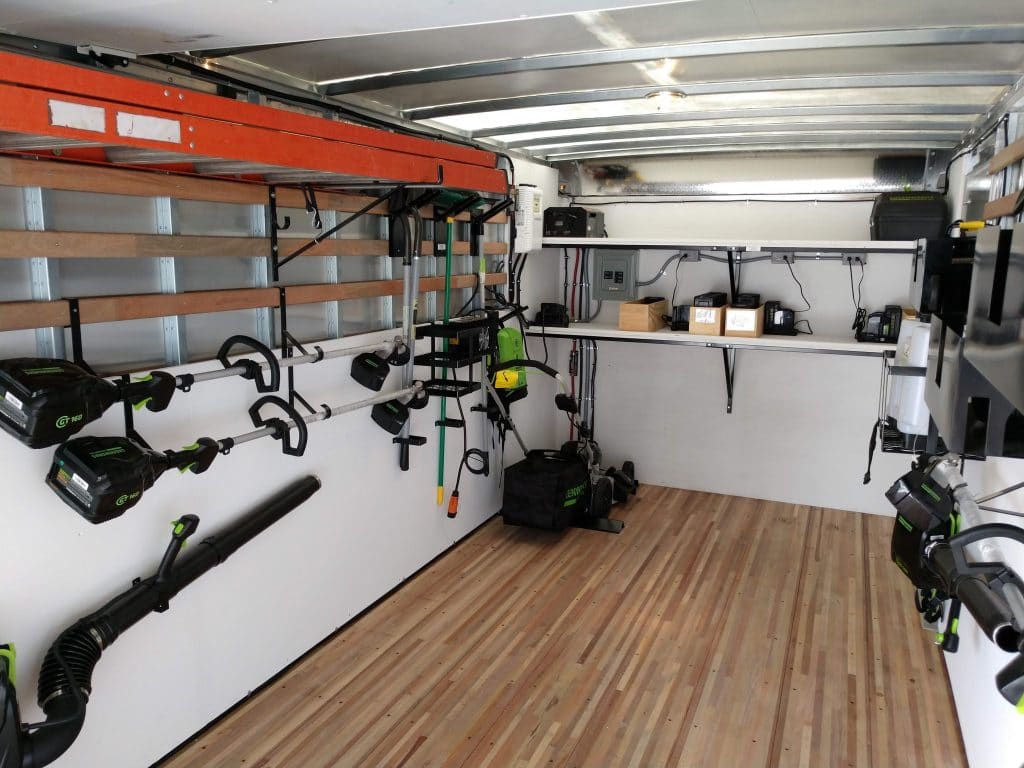 Need a loading ramp and lawn truck that can load zero-turn lawn mowers or landscaping equipment up to 4000 pounds?  Tired of lifting heavy loading ramps? Are your expanded metal loading ramps broken and needing repair? You need to learn more about our patented Hydra-Ramp™ technology and the ECO Series Loading Ramp and matching ECO Series Enclosed truck body.
The Eco Series enclosed truck body is specifically designed for medium duty trucks like Isuzu, Fuso, Hino, Ford or Chevy trucks. The ECO-Series loading Ramp is available in designs to hold 4000 pounds or 2500 pounds of wheeled or track equipment. 
This video will tell you what happens when you fill out the form!
3 Simple Steps to Order your Super Lawn Truck        
1) Select the package that best suits your needs.
2) Place your deposit.
3) Apply for financing.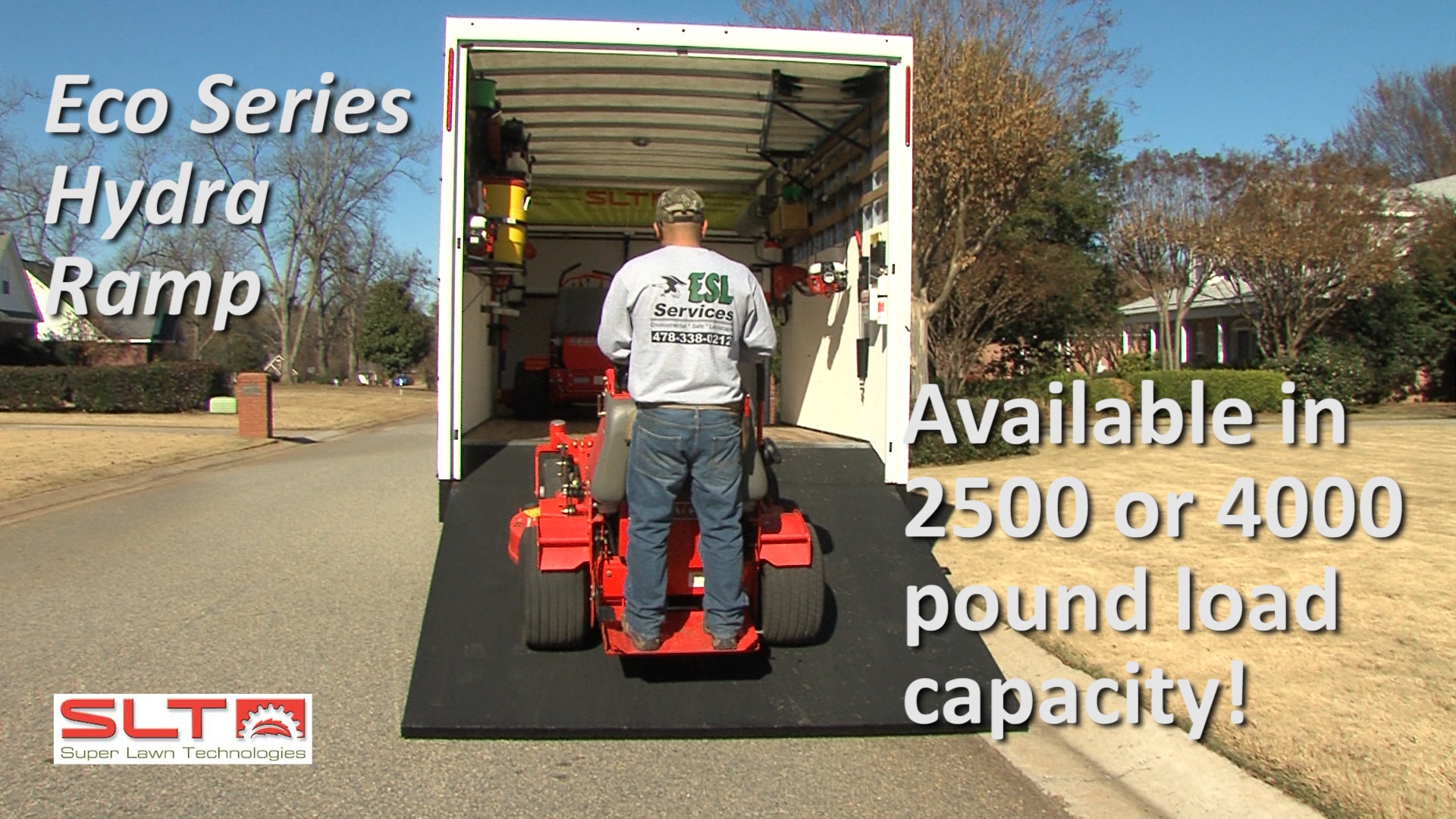 The Eco Series loading ramp is exclusively available from Super Lawn Trucks and must be installed on an Eco Series enclosed body. 
The patented one-piece ramp design makes it simple and fast, raising and lowering in an incredible 10 seconds!  It's small, only extending 8 feet off the rear of the box truck allowing it to deploy in tight spots.  Easy hydraulic operation prevents back injury from lifting heavy, steel, manual ramps. Your employees will LOVE the push-button hydraulic operation that makes loading equipment fast, safe and easy.
A special formulated non-slip coating on the ramp prevents injury from slips and falls when surfaces are wet.  This rugged ramp coating keeps lawn equipment and landscape employees loading fast and easy, even in wet weather!  It allows for simple, speedy, one-person operation.  Once again, it's built from solid steel and can handle a commercial workload expanded metal won't be able to keep up with over time.  The Hydra-Ramp is rugged and designed for commercial and residential landscaping operators.
Super Lawn Trucks has been building Hydra-Ramps™ since 1991.  The patented loading ramp design has proven itself time and again to last as long or longer than the truck it's mounted on…10-20-30 stops a day, you can load your lawn equipment fast, safe and easy.
The ECO Series loading ramp replaces high maintenance roll-up doors found on most box trucks.  The Eco-Ramp™ is your rear door and keeps equipment safe and secure!  It's strong, affordable and ready to help you ramp up to more clients and higher profits!
We invite you to watch these video interviews of satisfied lawn business owners who can tell you how well the Hydra-Ramp™ system works for them!
Complete the form on this page to get an immediate quote for the Super Lawn Truck Eco Series package with productivity enhancing options like lawn equipment tool racks, onboard fueling station, back-up camera and custom truck marketing packages. 
Or call us at 866-923-0027 to request a customized quote or to request your buyer's order.
SLT ECO Series with Debris Dumper