No commercial drivers required for the light duty Chevy Express or GMC Savana Cutaway!
Compact enclosed Super Lawn Truck design for lawn maintenance contractors with a crew of two people.
With a Gross Vehicle Weight Rating of 9900 pounds, your drivers do not need a DOT physical to operate this truck.
Big features like an on-board fueling station, rugged push button loading ramp, efficient tool storage, and billboard advertising! Watch below!
Features
GMC Savana Cutaway Cab and Chassis
        Vortec 4.8L V8 engine
        GVW rating of 9,900 lbs
        Payload capacity of 2,500 lbs
        Wheelbase of 139″
        Standard cab allows a driver and one passenger
        Available in gas or diesel
Enclosed Body
        Available in 12ft enclosed dry freight body that locks and secures tools
        Big enough to neatly store and transport tools and equipment needed for all landscape jobs
        Reduces the need for warehouse space
        Cuts down the need to pull a trailer making the SLT Eco 12GL easy to maneuver
        Provides billboard-size advertising space
        All aluminum sides hold onto a professional paint job
Hydra Ramp™ System
        Heavy-duty (patented) ramp has the strength and capacity to handle all types of riding or walk behind power equipment – large commercial riding mowers and walk behinds
        Offers single hydraulic operating system for quick operation
        Operates as a rear door for security and ramp for loading and unloading equipment
        Coated with an anti-skid epoxy that provides more slip resistance than the standard expanded metal ramps
        Has multiple uses, e.g. pruning platform, work bench
Underbody Storage Box
        Available in 36″ and 24″ options
        Mounted under the body of the truck for quick and easy access to tools
        Locking mechanism provides added security
        Enclosed box offers added protection from the weather
Fuel Station Transport System
        Carries enough fuel to last a week, and prevents frequent stops and wasted time at the gas station – holds regular gasoline, pre-mix fuel, and an option to add a diesel tank
        Eliminates the need for gas cans that either get stolen or spill during transport
        Completely installed with electric fuel pumps, fuel gauges, hoses, hand valves and vented fuel caps
        Optional locking fuel caps provide added security
        Located under the truck body for easy access
        Meets all FHSA, USDOT and OSHA guidelines for transport fuel tanks
Warranty
       Five-year, 100,000 mile warranty
Cost
       The SLT Eco 12GL starts at around $800/month depending on current interest rates and options package
       Financing is available for 36, 48, 60, 72 or 84 months
       Leasing programs are available with a $1 buy out, or up to a 30 percent residual value at end of term
Custom Quote Request
The following popular options allow contractors to organize, safely store and carry tools needed for all landscape jobs.   These options can help reduce breakage and loss of tools and make keeping track of inventory quick and easy.
Irrigation Parts and Storage
       Offers adjustable bins making it easy to keep track of inventory – large and small parts, hand tools – every day
       Installation allows for full use of floor space inside the SLT Eco 12GL
       Wood finish has a clear lacquer sealer to extend wood life
Utility Shelves
      Single or double utility shelf options available for added storage and floor space for mowers or tractors
      Strong enough to hold up to 500 lbs.
      Mounted high enough to drive mowers underneath
Marketing
        Custom painting of cab and body
        Company logo and information is an added option to each customer
        Side body serves as a mobile billboard that is interchangeable
        Option for SLT to provide design, branding and company identity elements
Additional Custom Options
        Air compressor
        On-board restroom
        Water tank
        Power inverter
        Directional traffic control lights
        Receiver hitch for towing
        Trailer wiring harness
        Back-up beeper
        Security system and internet based GPS tracking
Download your Design Your Truck PDF here!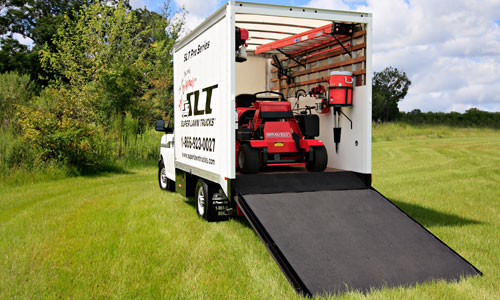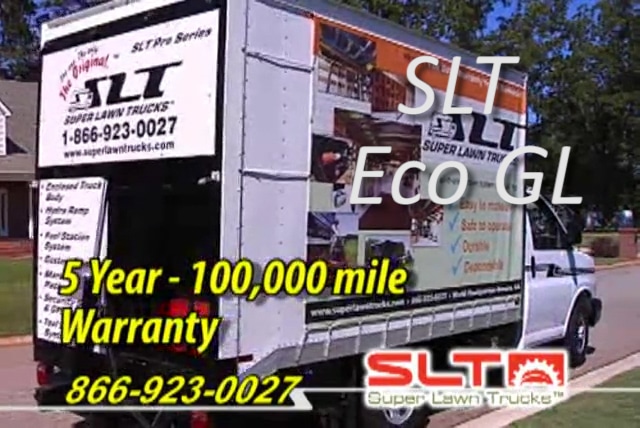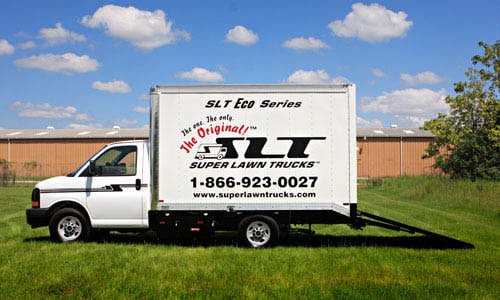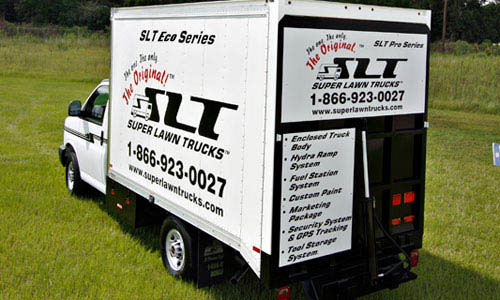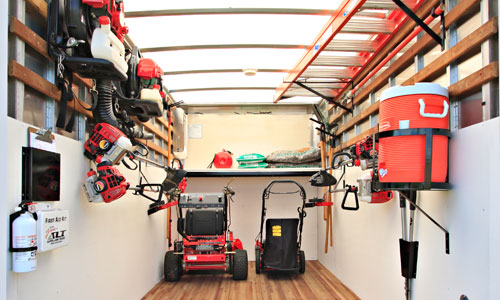 Fill out the form to get a quote NOW!
This video will tell you what happens when you fill out the form!
3 Simple Steps to Order your Super Lawn Truck        
1) Select the package that best suits your needs.
2) Place your deposit.
3) Apply for financing.
All Models are available with Crew or Single Cabs & Gas or Diesel!
Check out these popular features!
---
The SLT Eco 12GL
---
Get as much as 18 mpg on select models!
Super Lawn Technologies invites you to take a look at the SLT Eco Series of trucks. Check it out.
Each ECO Series Body System is custom designed to match the needs of the company.
Matched with the perfect cab chassis from the compact and super economical Eco Series 12 GL to the roomy 18-foot SLT Eco Body System, contractors are increasing productivity, reducing fuel consumption, and improving safety and security measures for their equipment and for their employees.
The SLT Eco Series trucks boast a low cost of ownership with fuel economy ratings of 15 -18 mpg on select gas and diesel models.
The SLT Eco Series of trucks are designed for total cargo capacity of over 5000 pounds but that is just the beginning.
The Eco Body locks and secures your tools.
Getting your equipment inside is easy with our patented Hydra-Ramp System.
This heavy-duty hydraulic ramp is quick and easy to operate and provides both safety and security.
Once inside, there is not only space for your riding and walk behind mowers, but plenty of utility shelves and storage keeping your equipment organized and secure.
Under the body you have a locking toolbox holding more of your equipment as well as fuel tanks for gas and two-cycle fuel-enough fuel for an entire week.
There are plenty of other options available, so the SLT Eco Series of trucks can suit your individual needs.
Your business will become more efficient.
Your equipment will be safe and secure.
And your investment is secure with our exclusive 5-year SLT Buy Back Guarantee.
Since 1998, contractors across North America have come to Super Lawn Trucks to help improve their productivity.
We hope you will step up to Super Lawn Trucks, too!
Product Case Studies and Announcements
---
The Super Lawn Trucks Eco Series 12 GL

---