Dear Lawn or Landscape Contractor:
Could your mowing service be replaced with robot mowers in the future?
We all know that new tech can be disruptive to old tech.
Horse and buggies were largely replaced by the automobile.
Typewriters were replaced by the personal computer and desktop printer.
Audio cassette recordings were replaced by the compact disc and the compact disc has been replaced by digital recordings that are zapped through the Internet instantly.
In each case above, we were able to improve personal productivity and… Ultimately, lower the cost of the benefit intended.
We are in the early days of the disruption of mowing as we know it. 
The robots are coming. In fact the robots are here among us. 
My Roomba does most of the vacuum work at home.
Robots check me out at the grocery.
When I go inside a McDonald's restaurant, I'm placing the order through the robot screen.
And as this author reports today, I can say that I have put substantially fewer hours on my 60-in zero turn in 2023 than anytime in my life. Here's why…
I replaced the 60 inch mower with a small compact robotic mower that now mows the lawn 24 hours a day 7 days a week never allowing the grass to grow above 3 inches high.
It's true we still have to weed flower beds, edge the concrete and prune the shrubs, but the weekly responsibility to mow growing grass has largely ended for this author.
And so it goes. I vote with my pocketbook…just like you vote with yours!
What's the most cost efficient way to get the result I need in regards to my lawn?
At this point in time I can say with great confidence that hiring a small robot is dramatically lower cost than the traditional mowing with a big 60-in machine.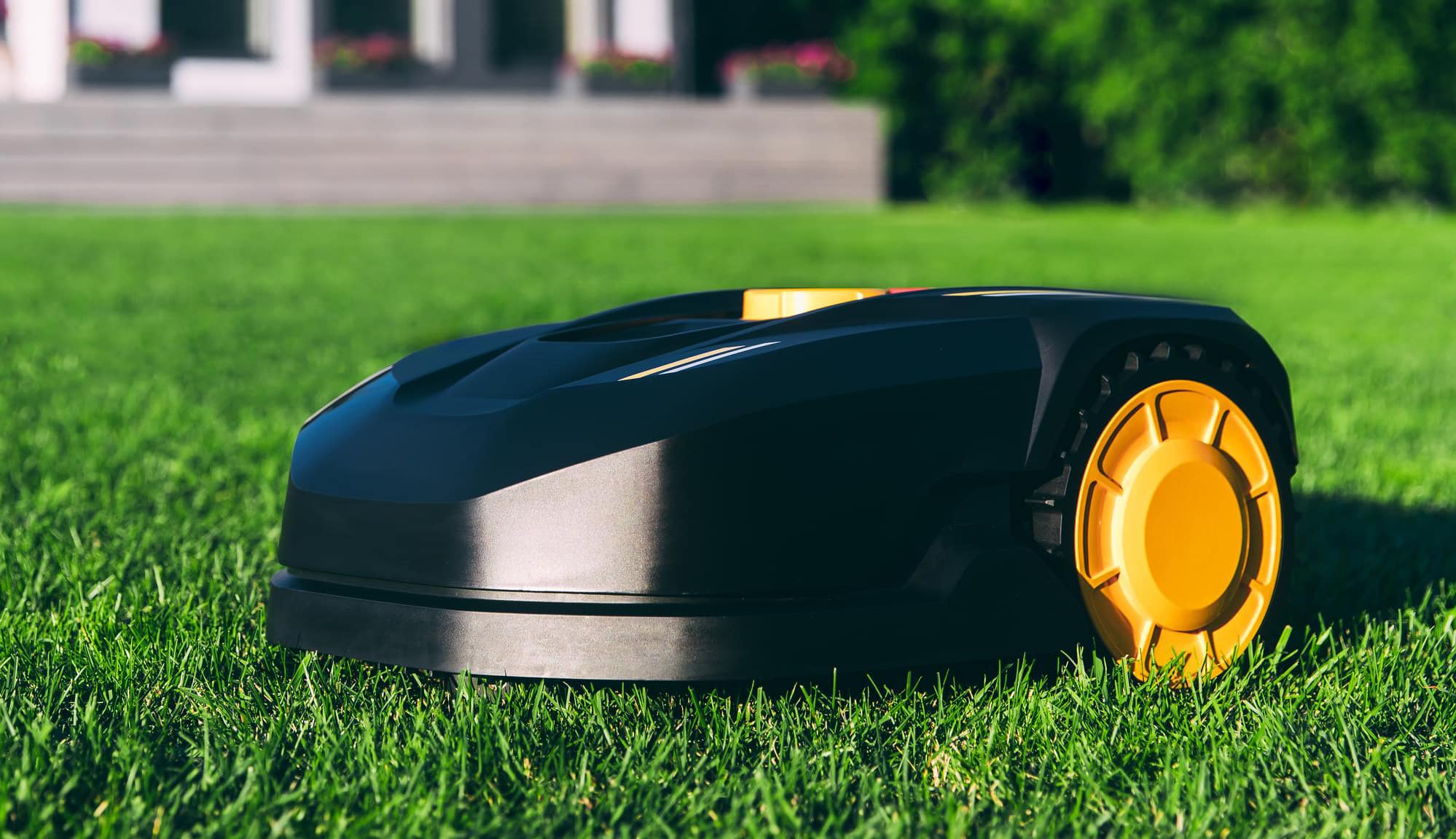 Take a look at one of these little robots.
It can stripe 2.5 acres of my lawn better than I can! Can you see it? One very small robot cutting 2.5 acres!!! It's battery powered.  It's nearly silent. It cuts day and night. Really amazing.
Sure, there's questions about the small robot's durability. There's questions about battery life. There's questions about long-term reliability of the robot. Hey, it's new tech. There's always questions about new tech.
Those who are blazing the new tech trail today with new technology will surely get these questions answered before those who delay the adoption of the new technology.
And just like technology has changed and improved productivity in the past, it is sure to do it again in the future.
The mowing robots were proudly displayed at the Equip Expo this past week in Louisville, KY. Frankly, the number of manufacturers of robotic lawn mowers is growing rapidly. We counted 72 different mower manufacturers at this year's event. It appears over 20 companies are offering robotic mowers.
When will you move towards robotic mowing? 
That might depend on your age. Old folks tend to adopt new tech slowly. Young folks tend to adopt new tech quickly.
Which got me thinking…
I'll provide this photo of a snapshot in time with a couple of young contractors who have been following me and working on their young business for the past 3 years.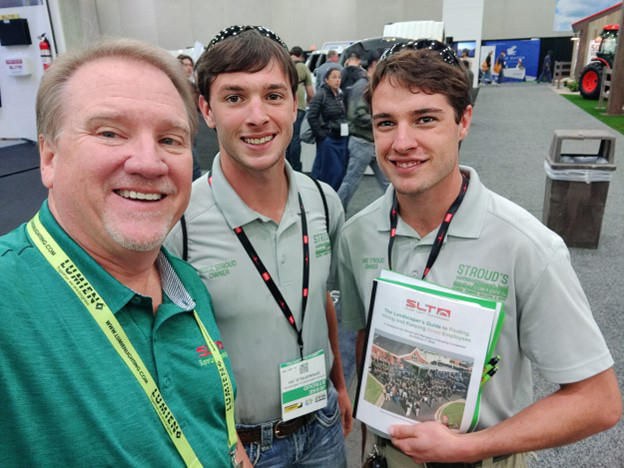 In the photo are Luke and Jesse Stroud and Tony Bass
These guys are sharp. They are working ON their business by attending the Equip Expo, looking at new tech.
To these young business owners I ask the question: Will they even need to purchase a 60 inch zero turn in the future? 
Will they be able to rely on these small robots to do all the mowing services their company will ever provide?
Luke and Jesse are smart. They will invest in new tech if it helps them improve productivity, job quality, safety or employee retention.
Consider this. Will the lawn service contractor of the future become a robot manager who also provides gardening services?
Will we replace the lawn mowing technician with a robot? 
If the robot can lower the costs of mowing for the consumer, the robot will likely become the lawn mowing solution of choice.
If the robot can improve the quality of mowing for the consumer, the robot will likely become the lawn mowing solution of choice.
If it can do both, it will definitely become the undisputed champion of lawn mowing within the next decade.
Are you ready to change the way you provide a mowing service?
Hit reply and let me know what you think.
To your robotic future,
Tony Bass, founder
866-923-0027
PS – In the photo above, Luke and Jesse Stroud are holding one of the very first print copies of my new book, The Landscapers Guide to Finding, Hiring and Keeping Great Employees.
We are proud to help young, energetic learners like Luke and Jesse improve their business systems. 
And judging from the number of book purchases this past week at the Equip Expo, there's a big number of well-established companies who will be working to improve their employee systems over the next few months too. The introductory special of 50% off continues by clicking here.