Double Landscape Employees Wages? Really? Are You Kidding?
5-14-22
We were surprised by the questions and comments on the subject of doubling landscape employee's wages this past week.
It seems that a growing number of lawn and landscape business owners are seriously considering this rather radical approach to solving the landscape employee problem.
In case you missed our recent essay on the subject, you can read it here.
We thought it would be a good idea to share a couple of the comments and questions we received from landscape business owners this past week.  Here we go…
First Question
 Michael Crnkovic of Fresh Cut, IL
============
Tony,
I have no idea if this email is monitored, but I love the idea of doubling wages. I even tossed it up to my leadership team at our annual planning in January.
How can this be done mid-season without sinking the ship?
Hoping to hear from you!
Best,
Michael Crnkovic
============
Hi Michael,
Your question is so similar to Tom's question (below), I decided to answer you here in this week's Wealthy Landscaper Letter. Hopefully you now know…YES…we monitor our email…and…we do our best to answer your questions. We dug your email out of our JUNK folder…and…
Your detailed answer is below. Keep reading…
Thanks for your reply!
Tony Bass, founder
—————————-
Second Question
Tom Sweeney of Sweeney's Custom Landscaping, IL
============
Hi Tony, 
I love the idea of paying my guys as much as possible, after all I want them to have a good life too. Call me crazy, but I truly care about my guys.
After have been through your Profit Builder twice, it seems to me, this can be done IF and only IF it has been budgeted for.
Until then, it's about managing your costs "as is"-correct?
Tom
============
Hi Tom, Thanks for the question! You are a good student.
Your answer is below.
I look forward to helping you adjust your pricing model to match your business plan.
Tony Bass, founder
 ——————–
How to Double Landscape Employee Wages 
Without Going Broke…
Yes Tom.
You need to have a budget/plan to pay/recover whatever wages you choose to pay.
The examples referenced in the prior essay titled Solving the Landscape Employee Problem… Ford Motors and my young, courageous, landscaping business owner client made bold moves regarding pay.
In each case, the business owner decided they were fed up with "average workers".
Fed up with turnover and the endless burden of training new workers, they decided to make a radical adjustment.
They wanted the best people and decided to DOUBLE WAGES (compared to their competitors).
As they adjusted their employee's pay, they adjusted their prices accordingly and the rest is history.
In the case of my client who now pays his landscaping team double the industry average wage but enjoys 404% higher sales per full time equivalent employee than the publicly traded landscape company, Brightview…his top guys (crew leaders) have been with him for 7 years and are paid $35 to $40 per hour and YES…they get some overtime pay along the way.
Seven years is pretty good employee retention in ANY industry.
According to the Bureau of Labor Statistics (BLS) Employee Tenure summary report of 2020, the average tenure of employees across all industries in the USA is 4.1 years.
But when you look into the service industry, you'll find that food service workers' average tenure is just 1.9 years. 
Now…compare your turnover rates. How are you doing with your current employee systems? Are you keeping people longer than average or well below average?
Now…
Don't think that "higher pay" solves all of your employee challenges…it won't.
Take the publicly traded mega company named Amazon as an example…
They have their minimum wage around $18/hr and their average tenure is just 1 year (according to the analyst who covers the company).
Now compare this…
The average pay for a fortune 500 company CEO is currently $14.1 million per year and the average tenure is just over 5 years…
So…in this comparison…392 times higher pay gets you an additional 4 years of tenure (on average).
You see…
It's always more than money that keeps people.
We decided to answer these questions today because of the negative conversations we keep having with frustrated business owners.
In fact, just this week, we were invited to join a round table discussion of CEO's running multimillion dollar companies.
Guess what the number one challenge was among these CEO's?
 Yep…employees!
Personally, I'm ready to PUKE after listening to the negativity!
If you want to solve the employee problem…you will have to work your butt off while you make a few changes!
You'll need to wear the hat of the Director of Human Resources.
NOW…
The best news for ANY landscape business owner is that YES….you COULD double employee wages in the next 30-60 days WITHOUT going broke if you ONLY DO ONE THING!
RAISE YOUR PRICES FIRST!
That's it!
The next bid you deliver…you simply adjust your prices to allow you to double wages.
Since it's the busy Spring season, we already know that you have MORE WORK than you can get to in the next 30-60-90 days.
RAISE YOUR PRICES BEFORE YOU GIVE THE FIRST RAISE!
If you price work for the next two to four weeks and you see that you can't sell any work…then lower those prices 10 percent and try again.
Since we are talking about LANDSCAPING work, and not season-long lawn maintenance agreements, nothing gets hurt by raising these prices BEFORE you increase the pay.
But please understand…
Doubling wages is NOT the only option to improve your employee systems.
Take a look at this formula below. You'll find 7 unique tools that can transform your company and your relationships with your employees.
Add these processes together and you'll behave more like a Professional Human Resource Manager than an average landscape company owner.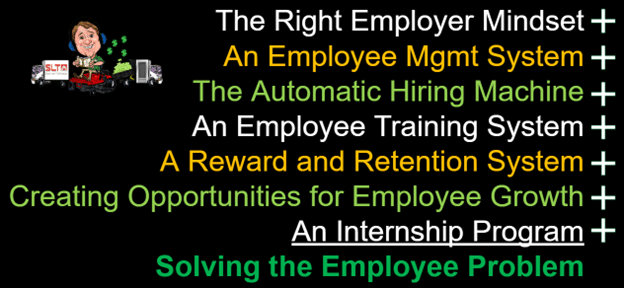 Over the past few months, we've been teaching members of the Super Lawn Toolkit Training Program how to build, implement and profit from this 7 Point HR system.
Our framework of thought, strategy, tactics and actions works.
This is similar to what you might find if YOU take on the role of an HR Manager at a Fortune 500 company with world-class resources and well-trained professional management.
Please…let me warn you right up front.
There's not a "silver bullet" to solve the employee problem.
Could you make the decision to Double Wages next week? Sure you could…however…
If you Double Wages…but fail to raise prices…you could destroy your company!
High pay does not equal perfect employees.
If you Double Wages but fail to create a well-documented employee management system, your highly paid people may not follow your policies. They may not take care of customers correctly, service your equipment properly or turn in paperwork in a timely manner. 
If you Double Wages for your top workers…but fail to build an apprenticeship or internship recruiting and training system, you may squander the chance to LOWER WAGES while you are building your next group of super star employees.
If you would like to learn more about Solving Your Employee Problems, we'd love to help. Schedule a meeting with our team to learn more. The initial meeting is FREE.
Click here for a 20 minute strategy session.
Thanks again for your comment/questions.
Keep me posted on your progress in 2022.
Tony Bass, founder
866-923-0027
PS – Finding, recruiting, hiring, training and retaining employees is the #1 challenge in business today. We've found that a growing number of lawn and landscape business owners are so frustrated with the challenge they are giving up.
The words and ideas like retirement, quitting, selling-out and merging with another company are frequently heard in our private conversations.
We recommend one serious alternative. Get yourself specialized training on the subject. An investment in your education can pay lifelong dividends. Here's a great place to start. Watch this video to learn about the Automatic Hiring Machine.