Lawn and Landscape Business Owners:  We had interesting feedback from our readers on the subject of running Facebook ads. In fact, Jeff R. quickly responded to the article we published on the subject and let us know that he invests a cool $100,000 each year on Facebook ads…and he is very glad he does it. His calendar is full and he generates seven figures in annual sales each year in landscaping services. Not bad!
But Facebook ads are NOT for every lawn and landscape business owner. 
There are a handful of "must-do" marketing activities that EVERY lawn and landscape business owner MUST DO BEFORE they invest thousands in Facebook ads.
We will discuss the top 3 marketing strategies for lawn and landscape companies right here. These include:
A well designed business card.
Matching colors and company information placed on all trucks and trailers.
Matching colors and company information placed on company uniforms.
Some of you will take a look at this list and say – duh – everyone knows this Tony. Well…a lot of super-successful company owners know about these marketing fundamentals, but certainly not ALL lawn and landscape business owners follow this plan. 
In fact, just a few weeks ago, we had one of our  members in the Super Lawn Toolkit training program, a 32 year veteran of the lawn business, redesign his business card after we completed a business card design workshop.
You see, technology continues to evolve and we must adjust our marketing fundamentals to keep up. We will discuss each of these items in our Wealthy Landscaper Letter below and share an example or two along the way.
First – A well designed business card is a foundational marketing tool. Personally, I'm amazed by the high number of contractors I meet…and upon request for a business card to exchange contact information, they don't have a business card. Let me share rule #1 when it comes to marketing:
Never put your pants on without a business card in your pocket!
That's right. NEVER leave home without a business card. I'm serious. Here's a promise. If you and I ever meet face-to-face and I don't have a business card on me, I'll give you a $100 bill. You see, that's how confident I am in execution of the fundamentals of my marketing plan. 
Over the years, I've preached this business practice in my seminars. I'll walk the room and ask for business cards from lawn and landscape business owners. About 30% of the attendees don't have one. Failure to carry business cards is like going fishing without bait! It just don't make sense.
As we meet the employees of those same companies, about 70% don't have a business card. If you want to be successful in business, you must be prepared to take care of the fundamentals for success. Business cards are the world's most affordable marketing tool!
Carrying a business card is like blocking and tackling plus throwing and catching in football. You'll never advance far enough to skip the fundamentals and be a champ. If you are like me and you NEVER leave home without business cards in your pocket, congratulations!
If you would like to review your business card and see if it includes all 14 of the must-have design details, then send an email to Tony@TonyBassConsulting.com and put "Business Card Design" in the subject line. We will make sure you get access to this training where we reviewed about a dozen landscaper's business cards.
Second – Your trucks should be your rolling billboards providing lead generation while they create a perception of value about your services. I'm amazed at the number of landscapers who fail to put their company name, phone number, website address and logo on their trucks.
The size of your truck signs can greatly affect lead generation. Generally speaking, the larger your phone number and website address, the more leads you will generate from your trucks. 
The color of your trucks can greatly impact the branding of your company. Approximately 70% of commercial vehicles are white in color. About 30% of commercial vehicles are something other than white. The company's who use a unique color in their marketing will always generate more leads than those who use white as their company color. If you doubt what I'm saying, just think about the color associated with these companies: 
John Deere = Green 
UPS = Brown
Coke = Red
Stihl = Orange
When your's truly set out to build a unique landscaping brand in our home town, we selected a proven color scheme. We selected the contrasting colors of black and silver that were being used by the pirates of the NFL – The Oakland Raiders. (I can't get used to calling them the Las Vegas Raiders). I always admired how dramatic the contrast in the colors of silver on black. You can take a look at the photo of our trucks and people in our company photo right here (you may need to "allow images" to see the photo):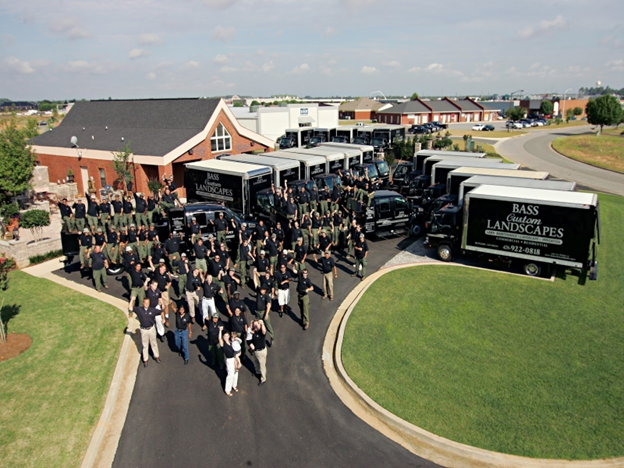 Note: The photo above was taken at one of our three locations. The photo was used in all of our sales proposals. We used just over 240 man hours to create this amazing photo.
Third – Your company uniforms should match the colors of your business cards, trucks, signs or other advertising. In the photo, you can see all employees wearing black shirts. Folks that worked in the field wore green pants. Folks that worked in administrative positions wore khaki colored pants. 
Every day, when we went about providing services, we leveraged the colors of black and silver in the display of business cards, trucks and uniforms. Can you imagine the impact of billboard size advertising on 30 trucks, 83 uniforms and hundreds of business cards being handed out each month? It's powerful!
Our phone rang day and night year round. Our growth was only limited by our ability to hire and train the next team. This will work for you as well.
This 3-part marketing plan will help you keep a steady flow of leads, inquiries and referrals coming your way. It works because there is always a moving parade of prospects entering the buying cycle. As they move into the buying cycle, if you have your name displayed in a professional, consistent manner, your marketing becomes believable and trustworthy. If you do not have consistent colors and a consistent visual appearance, you will have a hard time building trust and credibility in your market area.
So, if you happen to be one of our readers who may have skipped these fundamentals, we encourage you to pause on spending money on things like Facebook ads and get these powerful – automatic – marketing fundamentals fixed for your company.
Send us a photo of your team and let's see what you guys and gals look like.
Keep Marketing and Profit Greatly,
Tony Bass, founder
866-923-0027
PS – Working long hours does not guarantee that you will become wealthy from landscaping. BUT… there are a series of best practices that can produce extraordinary financial results when you own and operate a landscaping company.
That's what the Wealthy Landscaper Letter is all about. We deliver a powerful, wealth-creating idea each week to landscapers who are pursuing a wealthy future. Click here to purchase your subscription.