Dear Lawn or Landscaping Business Owner:
Running a growing and profitable landscaping company is a dream come true.
But the real challenge lies in building a dependable team. Yes…finding, hiring and keeping landscaping employees is a tough job…but it's the one job that keeps you off the truck…that is…if you learn the techniques of professional recruiters.
Today, a growing number of lawn and landscape business owners are adjusting their recruiting ads, updating their hiring methods and enhancing their retention systems to solve the employee challenge.
It's time to say goodbye to the revolving door of unreliable workers and discover the keys to cultivating a loyal and dependable workforce.
In the pages of The Landscaper's Guide to Finding, Hiring and Keeping Great Employees, you'll learn:
1) Recruitment Mastery: Unearth the secrets of attracting talent in a competitive job market. We share practical strategies for recruiting individuals who will not only meet but exceed your expectations.
2) Hiring Strategies: Gain a clear, step-by-step hiring process that ensures you bring the right candidates on board without time wasting interviews. You'll avoid costly mistakes and quickly identify the winners that fit your hiring budget.
3) Employee Retention: Fostering loyalty is vital. Learn to create a simple system that keeps your staff engaged, motivated, and eager to grow with your business.
4) Conflict Resolution: Tackle employee issues head-on with confidence. We provide guidance on addressing poor performance, fostering cooperative relationships, and minimizing turnover.
5) Build Your Team: Companies with a big bright future are always recruiting and then teaching. Follow our process and you'll always have a steady stream of energetic and eager learners to help you grow.
We know many lawn and landscape business owners who have grown frustrated, discouraged and downright tired of fighting the employee battle. In fact, the problem has gotten so bad, many small employers simply want to give up. That's not good!
If you're tired of employee interview no-shows, first-day of employment disappointments and unreliable employee performance, you owe it to yourself to try a new approach.
"The Landscaper's Guide to Finding, Hiring and Keeping Great Employees"  is your roadmap to achieving stability and prosperity in the landscaping industry.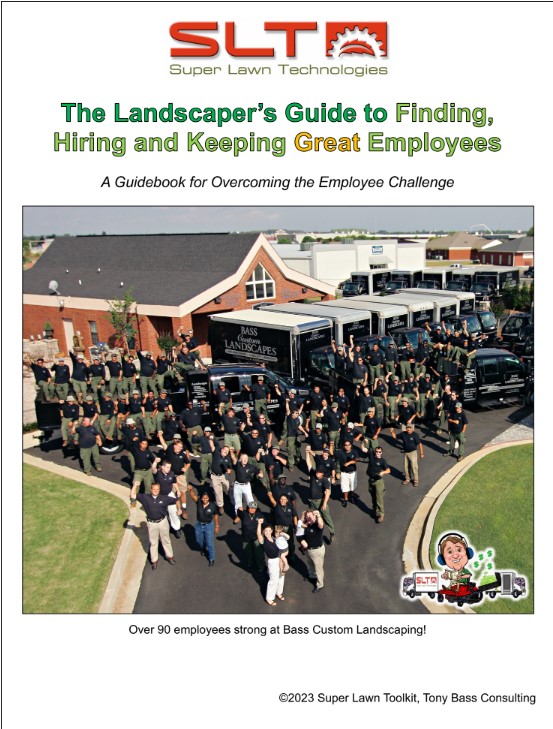 Written by landscape industry expert Tony Bass, this book offers invaluable insights, real-world examples, and practical advice to empower your company's growth and secure your dream team.
Don't let staffing issues hold your business back – invest in the knowledge that will transform your landscaping enterprise. Your future success starts here.
Click here to place your order. 50% off for October. 
Your book will be shipped FREE to your door.
You'll also get access to seven tools to make it easy to update, enhance and master your employee systems. The details are explained in the appendix on page 112.
I look forward to sharing this with you.
Tony Bass, author
866-923-0027
About the author:
"The Landscaper's Guide to Finding, Hiring and Keeping Great Employees" by landscape industry veteran Tony Bass, co-author of The E-Myth Landscape Contractor: Why Most Landscape Companies Don't Work and What To Do About It.
Tony Bass has been an employer since 1987. He has successfully made payroll for his employees for over 1800 weeks.
Tony has hired hundreds of employees over his career. He's been sued by employees, suffered through government payroll audits and been embezzled along the way. He has used each adversity to learn how to become a better employer while protecting his assets.
He uses his three and half decades of real business experience to explain the step-by-step details he has used for recruiting, hiring and retaining employees to help build nine companies for his family.
Since 1998, Tony has helped hundreds of landscape business owners improve their business systems and build very profitable companies using his techniques.
In his newest book, Tony reveals how:
small business owners can apply marketing skills to attract better employees.
to use technology to automate much of the time sucking parts of recruiting, saving business owners countless hours month after month.
his employee management system will help you retain your best recruits longer so you can grow a profitable and dependable business.
to avoid the drama created by poor employee performance and unacceptable work habits.
YOU can become a confident employer.
We invite you to join us for this educational and entertaining story that provides a clear and well-thought-out action plan that's been used, tested and perfected in companies from 2 to 100 employees.
The Landscaper's Guide to Finding, Hiring and Keeping Great Employees can be purchased here.