The room was packed full of landscapers. The group was energetic, professional and eager to learn how to get better. And boy oh boy…they really had the chance to learn how to get better last week!
Reports from the National Association of Landscape Professionals – NALP – say almost 3000 people attended the Elevate Conference in Dallas, TX September 10-13, 2023.
Here's a few thoughts about the Elevate Event – the undisputed champion of landscaper business education. 
There were a total of 68 educational sessions. Topics ranged from adopting robotic mowers, to hiring employees, training employees, managing money, using artificial intelligence in your business, improving your mental health and exiting your busiess using the incredible wave of private equity investments that are buying landscaping companies.
You could walk out of seminars at the end of each day completely stoned on education! Yours truly attended 10 classes while at the event. The classes were held in such a way that you didn't have to choose between educational classes and attending the trade show. Over the three day period, the trade show was open eight hours. Education was available for 20 hours.
On top of the education and the trade show, there were those "magic moments" of time when we got the chance to meet up with our clients…face to face…and share a conversation about the journey we have enjoyed as landscapers.
If I was asked to describe the event in three words or less, I choose to describe the event as a "Landscaper's Family Reunion". Let me share a few photos and stories about the people that made the 2023 Elevate Conference special for my family.
Chuck Monico (above center) and I (Tony Bass above  right) met in 2001. He was one of my very first consulting business clients. He attended a privately held education event we called Your Business Breakthrough 2001. Since that first meeting, Chuck grew his business to a multi-million dollar size in Omaha, Nebraska. 
In 2022, Chuck merged his company with a firm named Ryan Lawn and Tree. It's a huge success story. He went from a small start-up, to become a target for acquisition in a period of about two decades.
Here's the highlight of our time together. Chuck said, "I finally got to meet Saint Jo Lynn." 
You see, that little lady on the left (above) is my wife, Jo Lynn Bass. Until 2019, my wife had never gone out on the road with me for business. But after being the primary caregiver to our two children for 18 years, Jo Lynn now has the time to travel with me to special events… like the NALP Elevate Conference. 
We appreciate the opportunity to work with Chuck over the years. Not only has he used my consulting services a number of times, he has made it a point to attend a number of our group education events and purchase Super Lawn Trucks for his company. 
We enjoyed sharing old memories with Chuck. We even had dinner with Chuck and his team Kevin Bonin and his team, Gary Fouts, Bruce and Barbara Cummings and the SLT team in Grapevine, Texas. We enjoyed a cozy little dinner with 19 of our closest friends in landscaping!
==========
The Faulk brothers, Kyle (below left) and Grant (below center) came running up to me when we were walking through the hotel lobby. You can see the huge smiles on their faces. 
Yelling, "Tony Bass – Tony Bass. Man it's great to see you again! We want you to know that our entire journey began with YOU. We attended the seminar you held in Memphis, TN with Bruce Sheppard and Weedman. That became the foundation for everything we have done since."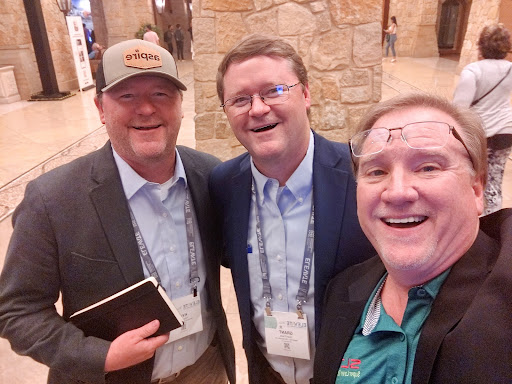 Headquartered in Dothan, AL, Kyle and Grant have built an incredible lawn service business and a Weedman Franchise operation generating millions in revenue today. I'm not sure if you can tell it from the photo, but Kyle and Grant are twin brothers…and business partners.
They have purchased my education materials including "The Business Building Secrets of a Multi-Million Dollar Landscape Contractor" and Super Lawn Trucks along their journey. 
There's nothing more personally gratifying than seeing entrepreneurs succeed. They said, "When we met you we were looking for answers…but really didn't even know the questions! We are so happy we found you at just the right time!" 
Kyle and Grant made my day with our encounter and reflection on their journey and how we were able to participate in their success.
==========
I was inspired by the work of Joe Ketterer (below left) last week. He is the Director of Quality and Efficiency in the maintenance division at Ruppert Landscape. He gave a presentation titled The Devil's in the Details at the NALP Elevate Conference 2023. 
Joe taught me a half dozen ways to improve efficiency on a lawn service crew in his 45 minute presentation. I was so impressed by his approach and inspired by his humor…I said, "I gotta meet this guy!"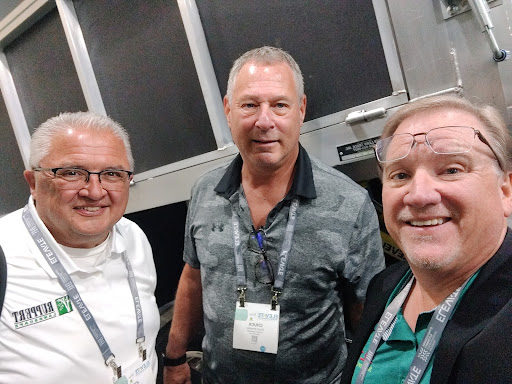 Joe and I found ourselves seated beside each other at another presentation later that day. I introduced myself and explained that Super Lawn Trucks has been providing a few of our Super Contractor Trucks to Ruppert Landscape. The idea behind the truck is to help landscaping and enhancement crews get better organized, reduce the need to tow trailers and safely haul people and supplies to job sites. He was vaguely familiar with our company. So I invited him over to our booth when the trade show reopened to get an up close look.
Joe brought over one of his teammates, Chuck Whealton, partner and region manager at Ruppert Landscapes. We had the chance to take a up-close tour of the Super Contractor Truck. Turns out, their team has been using this model of truck in the tight job sites of their Washington, DC market.
Everything about business starts with people. These guys are working hard to make Ruppert Landscape the best contracting company possible day after day. I'll tell you, it's great to know that the Super Lawn Trucks team is being trusted to build great trucks for great organizations like Ruppert Landscape.
==========
Thinking about the power of people…it's not just what you know, but who you know that makes life easier. I got the chance to catch up with Arnulfo Hinojosa, President of the Federation of Employers and Workers of America, (FEWA) at the conference as well. He provided and updates on the status of the H2B guest worker program to attendees of the event.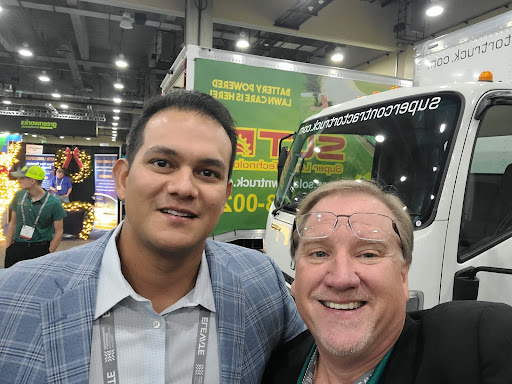 If you think your company might be interested in H2B or H2A workers, Arnulfo is an incredible person to know. We used FEWA to process visas for my former landscape company, Bass Custom Landscapes and our manufacturing business, Super Lawn Trucks in the past. 
Arnulfo and the company founder, Scott Evans, have worked with me to provide digital education and training to their clients on recruiting domestic workers. Since the government programs are always evolving, you need to have a number of strategies to help you get the people you need to fulfill your contracts. I highly recommend Arnulfo and his team. 
==========
You might begin to realize that I could go on and on sharing stories about the people we have worked with, the people we have met at the recent shows and those who made the effort to come by and say hello. You would be right!
I looked through my phone and found over twenty stories (from photos) I could tell you about. I doubt that you can see the significance of the relationships I have described above by simply reading a few words. 
But the photos help tell the impact of the stories. The images we have shared in this message is a VERY short story from a lifetime of work in landscaping. These stories – these relationships – these encounters make us the people we are. Remember this! Really Appreciate People – RAP!
I'll close with this last story. It's a story similar to those above. It's a story of relationships that are still in process. 
It may be the story of you and I. We get to know each other through email, articles and short meetings at industry events. But we are forever connected by this work of landscaping. So one more for the road. 
Jonathan Taylor stopped by the Super Lawn Trucks booth to take a look at the Solar Lawn Truck. He was there working ON his business. His company is not new. His company is not in the top 100 biggest landscape companies in the USA. Jonathan Taylor owns H & T Services in Maineville, OH. That's Jonathan on the left and your's truly, Tony Bass on the right.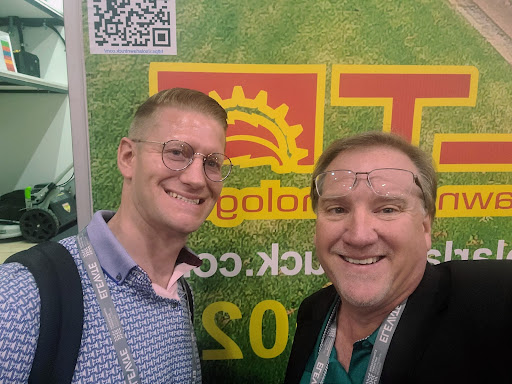 Jonathan has been following my company and the work we have been doing for landscapers for many years. In fact, Jonathan pulled out his phone and opened his email for me to take a look. 
He said, "Tony, I've been getting emails and follow-up since I first inquired with you in 2011", as he scrolled through the special folder he had with what seemed like an endless stream of emails. He also mentioned that he has attended online webinars with me from time to time.
Of course, I was flattered by his kind words and acknowledgement of our digital relationship. And, I love getting updates and the chance to interact with landscape business owners.
Being the jokester that I can be at times, I said, "Well, whatever I'm doing, I must not be doing a very good job at it. Because I don't think you have purchased anything from my company! If I'm unsuccessful in getting the chance to work with you after twelve years, I might need to go back to school and learn sales and marketing all over again."  🙂
We laughed and talked business for a few minutes. Jonathan told me not to give up on our relationship. He may in fact buy something from my company one day!
And that's the story we end with.
One more email. One more time.
In case you have never made it a priority to attend landscape conferences, landscaping trade shows and business education events…please adjust your priorities.
You may be one idea or one person away from a major business breakthrough, like Chuck Monico was in 2001. 
It took 22 years to finally meet Jo Lynn Bass here in 2023. But we are blessed to get that opportunity!
Business is all about people. Really Appreciate People – RAP.
So here's to the people we have introduced you to today.
The learners!
The innovators!
The landscapers!
Stay energized.
If we can help…just hit reply and ask.
We are standing by.
Tony Bass, founder
866-923-0027
PS – We will be in Anaheim, CA at the Landscape Expo September 20-21. We hope you will come by and see the Solar Lawn Truck on display.
We will be at the Equip Expo and Hardscape North America event October 17-20 in Louisville, KY. It's the single biggest landscape equipment event in North America. We hope you will come by and visit as you think about improving your company.