Dear Lawn or Landscape Business Owner:
Have you lost any good lawn service customers this season? Unfortunately, it happens. 
Growing too fast often means you lose control over the field. Little details like getting grass clippings in the pool or forgetting to weed the flower beds can cost you a customer. Details matter to customers.
We lost an account (one time) because an employee was caught peeing in the bushes. It was embarrassing for the young man. It was even more embarrassing for our company. In fact, I'm embarrassed to share the story today. But there is an important lesson coming.
Since the account was paying almost $500 per month, the incident cost us $6,000 in lost revenue… plus a significant hit to our reputation as a quality-minded, professional contractor…at least in the eyes of that customer…we were no longer worthy.
Getting caught peeing in the bushes was a rare event that cost us a client. But losing any profitable customer for any reason can damage your bottom line.
Our experience taught us that the late summer – especially August – was a critical time of the year to focus on quality control. As the landscape gets tired of heat, drought or excessive rain, the look of the lawn can be affected. And for those customers who expect a lush green lawn, you – me – we all have a chance to get fired. It's a big blow to strong egos. It's terrible for cash accumulation.
Over time…we learned a few powerful and positive habits. No tricks. No manipulation. Just common sense business practices that work. 
We established a system to get consistent and timely feedback that helped us slow the number of cancellations. Let me share the details so you can preserve your best customer relationships and avoid getting fired as you build wealth from landscaping.
Rainy Day Plans
Lawn and landscaping work typically gets interrupted when the rain clouds roll in. And when it's raining, many of us send the crews home. But we encourage a different approach. 
When the rain clouds open up, that's the perfect time to bring in your crew leaders or professionally sounding technicians (they can speak clearly) to make quality control phone calls.
We learned that we could make 6 to 15 calls per hour, depending on how many people actually answered the phone. A combination of voice mails and live conversations with existing customers can help you build customer retention…year after year.
We pick up that phone with one simple intent: find out if folks are happy with their lawn service…and we find out about our shortcomings before they get mad about something like weeds in flower beds, grass clippings in the pool or plants that need pruning.
Here's what we learned. 
In order for our team (accustomed to getting dirty) to get comfortable with calling customers AND to create consistency in our messaging, we had to write a phone call script. 
The only way to get consistent results with any part of your business requires you to put the step-by-step process into writing. This way you make sure you are communicating in a consistent, professional manner.
If you hire people to do landscaping work, they may be surprised that you invite them in on a rainy day to call customers. But that's okay. You want to challenge your team to grow personally and professionally.
We learned that bringing in crew leaders to work for 2-4 hours on a rainy day to make calls helped us in many ways. 
First, the employee did get a chance to work a few hours to earn some money. Next, they learned that we do check on their work. They learned they must be thorough on their visits… even if the boss or the customer wasn't around. They also learned that by using professional phone skills, they would increase their value to the company. It's called cross training your employees.
We quickly learned that calling customers and using a phone script costs a lot less money than hiring overhead employees to go out and inspect the work of the crews. We also learned that a phone call and personal conversation created lots of opportunities for add-on work. And…of course…we learned that customers who had a complaint were more than willing to let us fix the problem when we were proactively asking for feedback.
In other words…there were so many benefits of making quality control phone calls, our company made steady increases in revenue for 18 out of 19 years in landscaping. Not bad.
We learned that 3 to 4 well-timed calls a year from a friendly voice…regardless if the call ended up going to voice mail or resulting in a conversation…helped keep our customers feeling good about our company and our employees feeling good about our customers. It was better than win-win. It was like win-win-squared. Keeping customers grows revenue. Teaching employees a lesson about phone skills and quality control increased company pride. Got it?
Now…here's an example of the quality control phone script we used to retain customers. It can be used year round. But remember…if it rains…you (or your team) should be calling!
Hello Mr. Jones, this is Tony from Bass Custom Landscapes; this is a courtesy call. 
We wanted to get your opinion of the work our team is doing in your yard. Are there any parts of your landscape that you are incredibly happy with right now? (pause and take notes) 
Are there any parts of your landscape that you are disappointed in right now? (pause and take notes) 
We trained each person making the call to make detailed notes about the conversation. This way, their concerns can be shared with the appropriate team members.
The absolute perfect time to call is in August. 
Hint – hint. That's now my fellow lawn and landscape business owner!
We found that asking for compliments first – "areas they are happy with" – helped put the customer in a favorable state of mind. We collected positive feedback and shared it with our team. 
Can you imagine the positive energy created when you collect 5 or 10 or 15 compliments about your work? It's enough to make a guy want to get back out there and make the world a cleaner and greener place!
But the ultimate mission was to dig up "concerns" before they became "complaints". We asked about "areas you are disappointed in" then trained our team to shut up, listen and take notes. 
We quickly learned exactly what we needed to do to keep the customer happy. Could you imagine getting a courtesy call from your power company? How about the water company or the garbage man? They all provide important services. But rarely do you get a call from those folks.
You and your landscape company can stand out from the crowd by doing little things – like making a phone call – and really personalize your customer service so customer retention gets better and better.
We could go on and explain more…because there are more details. But that's all I have time for this August day in 2023.
If you have questions…
Just hit reply and ask.
Until we talk again…
Stay energized and happy landscaping!
Tony Bass, founder
866-923-0027
PS – You are invited to join me and a small group of landscape business owners at the upcoming Profit Builder Training event. This is the live training event that helps turn average companies into exceptionally profitable companies. Here's a note we received the past week from one of our recent students (used with permission). 
======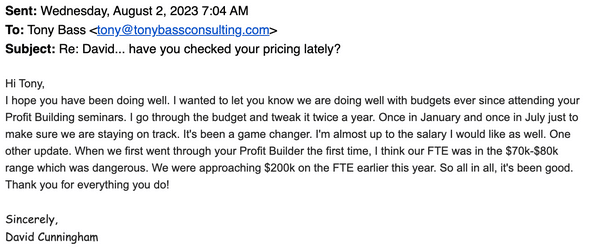 ======
Learn more about your financial productivity by taking the Wealthy Landscaper Productivity Challenge. Are you a high profit contractor or do you have room for improvement? Watch the video here.