Every five years the US Census Bureau conducts a survey of USA Businesses. If you have been in the landscaping business a few years, you've probably completed one of their surveys. The data is organized into a series of reports that reveal financial productivity on an industry segment basis.
We have assembled the US Census Bureau data for landscaping companies (NAICS 561730) 2002 to 2022 in the tables below. Although Census Bureau data is collected every five years, it takes the Census Bureau a couple of years to release all of the industry finalized statistics. According to the Census Bureau, the official 2022 data will not be available until 2024 or 2025. That's a pretty long waiting period. But we have a solution to project the data for 2022.
Recently released data by the Bureau of Labor Statistics reveals the gross payroll and number of employees for the year ending 2022. Using this data and the landscaping industry growth patterns established from the US Census Bureau data between 2002 to 2017, we are able to project the landscaping industry data for year ending 2022 to help landscape business owners compare their own financial results.
We believe the best way for lawn and landscape business owners to stay motivated to grow their business and find satisfaction in their results is to KNOW YOUR NUMBERS. You can find tremendous personal satisfaction as a lawn or landscape contractor when you know you are meeting or beating your financial goals.
What Every Landscape Business Owner Needs To Know
Table number 1 provides the overall landscape industry data. This data set reveals the extraordinary growth of this industry. Employment grew from 720,702 to 891,620 over the five year period 2017-2022. That is an increase in 170,918 jobs in five years (23.7% growth in five years) or a 4.7% increase per year.
The data shows that landscaping employees' payroll has grown $14.4 billion dollars over a 5 year period. That's an explosive increase of 57.8% over the five years 2017 to 2022 or 11.6% increase per year in industry wages. The data clearly shows that landscaping is a very big industry. We also see that landscape business owners have rapidly increased wages to respond to the growing volume of work opportunities and employee recruiting/retention challenges over the five year period.
Knowing that the number of employees have increased 23.7% but wages have increased 57.8% over the same period shows how competitive the employee market has become. The question for lawn and landscape business owners to consider is, "How do you compare?". Have you increased your wages (gross payroll) by an average of 11.6% per year between 2017 and 2022?
In previous reports released by this author, we determined that hourly wage growth had exceeded 5% per year from 2015 to 2020. In other words, wages have been growing at rates much higher than inflation for a number of years. But what has happened since the 2020 pandemic has accelerated wage growth and hiring even further than we had previously forecasted.
Table #1
Take a look at the data above and you will see that wages for employees and revenue for landscaping firms have exploded since 2017. The landscaping industry has gross receipts of over $120 billion dollars for the year ending 2022 with 116,813 landscaping businesses employing almost 900,000 workers.
Table number 2 reveals the landscaping industry data on a landscaping company by company basis. Landscape contractors can compare their company revenue, employee wages and sales per employee with the data we have assembled in this table.
The average landscaping company now has 7.6 employees with an annual pay rate of $44,160 or just over $22.00 per hour. The average landscaping company now reports just over $1 million in annual sales. Perhaps the most important financial benchmark to consider is the average revenue per employee in 2022 at $135,132.
Landscaping companies provide a wide range of services from lawn mowing, applying fertilizers, installing plants, building outdoor structures, installing lawn sprinkler systems, outdoor lighting and more. Construction based companies typically generate revenues much higher than those who focus on providing lawn maintenance services on a sales per employee basis.
Table number 2 shows the data on a company by company basis from year 2002 to year 2022. Lawn and landscaping business owners should compare their company sales per full time equivalent employee to test their current financial productivity. Lawn and landscaping companies who produce under $135,132 per year per full time equivalent employee should immediately consider strategies to improve their estimating skills, field productivity or marketing efforts.
Table #2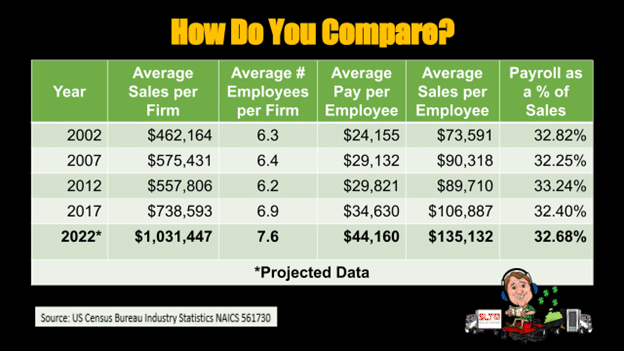 We first published this report in the pages of The E-Myth Landscape Contractor: Why Most Landscape Companies Don't Work and What to Do About It. Since the original publication we continue to update the industry data in an effort to help landscape contractors KNOW THEIR NUMBERS.
Lawn and landscape business owners take on significant responsibilities as employers. Not only do they have to learn the technical side of landscaping, they must become proficient in marketing, estimating, accounting, sales, safe work practices and human resource management. We want lawn and landscape business owners to be financially successful as they help make their part of the world a little greener and more enjoyable.
Please share this article with the owner of a lawn or landscaping business.
Tony Bass has been working in the lawn and landscape industry since 1987. He founded a lawn service business that he grew to multiple locations and exited the business with a seven figure profit. He has been granted three US Patents for equipment designed for improving productivity of landscaping companies. He is the founder of Super Lawn Trucks, a Georgia based manufacturing company supplying productivity enhancing trucks to landscape business owners. He has established the Wealthy Landscaper Productivity Challenge to raise awareness on the subject of Knowing Your Numbers.