Dear Lawn or Landscape Business Owner,
Do you think about your future company? How about your future employees? How about your future management team? How about your future profits and cash accounts?
Thinking about your future is a smart use of your time. I encourage you to set aside a few hours to sit and think about your future. You'll be amazed at how much positive energy can be created when we think about our future in a positive manner.
But you need to be careful. If you sit and think about the future as one filled with problems, setbacks, and failures, you'll produce a negative attitude about your future. In fact, it won't take long to convince yourself the future isn't positive. The idea of constant negative thought scares me.
We understand. Negative crap is all around. I have seen it up close and personal over the last 30 days during our nationwide tour.
You see, I'm deeply concerned for many of us in the fraternity we call "landscape business ownership". Here's why I'm concerned.
We've traveled just over 13,000 miles in the last 30 days to landscape trade show events including the Lawn and Landscape Technology Conference in Las Vegas, NV, The Profit Builder Training Event, Atlanta, GA, The Holiday Bright Lights Road Show in Chicago, IL, The Florida Nursery and Landscape Show in Orlando, FL, The NALP Elevate Show in Dallas, TX and The Landscape Expo in Anaheim, CA.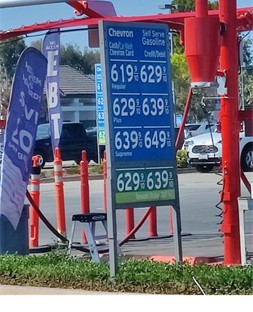 From $6.49/gallon gasoline in CA to body cavity searches from grinning TSA employees at the airport, we've had our exposure to negative crap. (gas prices 9-18-23 Anaheim, CA). Please enable photos to see the photo. Yes – gas prices are on the rise!
We continue to have one-on-one private conversations with lawn and landscape business owners wherever we go. There's one thing we find everywhere. People are eager to complain!
Complaining Landscapers?
Here's the number one complaint! Business owners are still bitchin', moanin' and gripin' about employees!
Yes…it's true. It's like the "bitchin' about employees" virus has infected many of us and can't be removed from many-a-landscaper. We are very concerned about this disease of the mind and mouth. It's a negative habit!
Here's what I want you to think about as we move into the fourth quarter of 2023.
If you find yourself about to get into a conversation with another business owner who is complaining about employees, I want you to pause and find a mirror. Of course, you can pull out your smart phone and turn the camera on yourself to capture the moment on video!
Take a look in that mirror and see what happens to your face as you start to complain. You'll find wrinkles in your forehead. You'll see your smile start to disappear. You may even feel your blood pressure or anxiety start to rise. In other words, negativity is hard to hide. Negativity drains your positive energy.
As we have had the opportunity to have hundreds of one-on-one conversations with business owners in the last 30 days, the bitchin' bug is alive and spreading through the hearts and minds of lawn and landscape business owners everywhere we go.
Can you relate to this story? Have you found yourself in one of these conversations where you and a another have complained about employees? I'm betting you know exactly what I'm talking about.
When we go out on the road to these events, we are meeting with some of the biggest and most forward thinking businesses in the landscape industry. I mean…think about it. All of these business owners (or teammates) travel to these events in search of ways to improve their company. That's a really good business practice. We all have a desire to improve. So why are we hearing all this complaining?
It's simple really. We find it easier to complain that to promote positive ideas. Well, I'd like to share a positive story right here in the Wealthy Landscape Letter.
The story starts with this week's trip to the Landscape Expo in Anaheim, CA. We made the journey out west to show off the Solar Lawn Truck system.
From what we can tell, our manufacturing company has created the nation's only on-the-go-charging solution to make the transition from gas powered to battery powered lawn care easy and affordable for landscapers.
After all, the bureaucrats in California have decided to outlaw gas powered lawn care in the near future. (We are trying to turn a negative into a positive…or a positive into an even bigger positive…depending on how you look at gasoline powered equipment.)
Learning Landscapers?
And then…standing before me is group of eager-to-learn young landscapers. They were part of the team of a multi-million dollar landscaping company in Palm Desert, CA. These young people represent the future of our industry. Here's the best part.
I didn't hear a word of bitchin', moanin' or gripin' about employees! Nope. They came on a mission to learn. They came with their eyes wide open and attentive ears ready to hear about new ideas. We had a very positive and productive conversation about the challenges facing their company. We talked about the challenges of working with battery powered equipment in the high-heat of the desert.
Take a look at the photo below.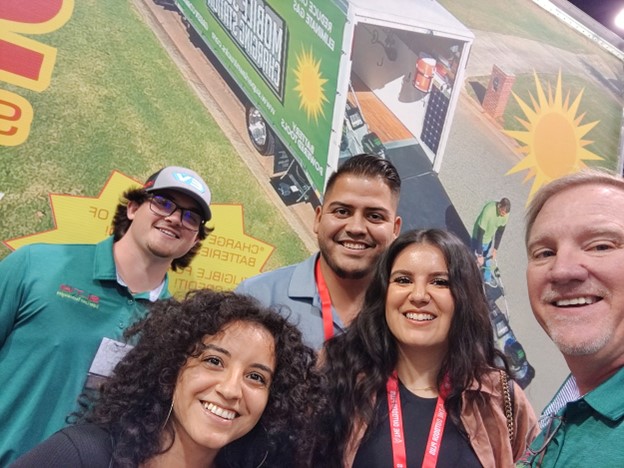 Left to Right: Maxx Bass, Nadia Teutle, Alan Cruz , Danelly Teutle, Tony Bass.
There's one old guy (far right).
There's four young people. All are under 28 years old. All are working in management in the landscape industry. If you don't see the photo, enable images.
These are good-looking, healthy, positive, energetic young people contributing to the economy of the USA. Each is an asset on the balance sheet of America!
For those who walk around saying things like, "these kids today won't work" or "we can't find good help", we offer this message.
Youth is our biggest opportunity for the future of landscaping. Youth is the biggest opportunity for the future of YOUR landscaping business. Here comes a very weird confession…
I'm thankful for what we learned when Fedzilla invented Covert 19. When they closed the schools in 2020, it gave us the opportunity to recruit youth into our workforce. It made yours truly go all-in on improving our internship hiring and training program. We hired 12 kids under 19 years old.
That was a big investment in youth over a short period of time in our company.
Five of those 12 kids became full-time employees within 12 months of their original hire date. They graduated and entered the workforce…our workforce.
We injected a serious dose of youth and positive energy in our company.
You could choose to do the same. In case this idea gets you wondering how you might build an internship program or target youth for your future company, we invite you to pre-order your copy of The Landscaper's Guide to Finding, Hiring and Keeping Great Employees.
We plan to have this new release available in a limited quantity at the upcoming Equip Expo and Hardscape North America Event in Louisville, KY.
You can pre-order and pick up at the show.
Or, you can order today and we will ship your copy direct to you next month.
If you go ahead and place your order today, we will provide you with a digital copy next week so you can begin to work on your employee systems.
Remember this. If you start one of those negative conversations about employees, please look in the mirror. What you see in the mirror is going to be the person who fixes the problem or who chooses to complain about the problem.
Keep learning.
Stay energized,
Tony Bass, founder
866-923-0027
PS – Just in case you want to learn more about the new release, The Landscaper's Guide to Finding, Hiring and Keeping Great Employees, the outline for the 10 chapters are below.
The Right Employer Mindset
Employee Management System
Employee Recruiting Machine
Hiring Better Employees System
Employee Training System
Reward and Retention System
Creating Opportunities for Employee Growth
An Internship Program
When Things Go Right & Wrong
The Employer Challenge