Two Important Topics – 
First – Consumer Price Index (CPI) data was released on Thursday.
The Bureau of Labor Statistics (BLS) report that prices have risen 7.9% over the past 12 months. It's the highest inflation rate our country has expereinced since 1982. That's 40 years of workin' hard, playin' hard, living, loving and growing.
Now…
Those guys and gals over at the BLS crunch numbers for a living…
and…
they've been doing it for decades.
But if you and I try to buy a truck…or a tank of gas…or a sheet of plywood…or a bag of fertilizer…
well…
A 7.9% increase would look like a fine bargain!
Personally, I think it's time to re-brand the BLS monthly report of CPI.
I think a more appropriate name would be the Consumer PAIN Index! CPI = Consumer Pain Index in 2022 – Get it?
So…
BEFORE we believe those inflation numbers from the BLS…
I'd recommend you take a careful look at the 2022 Truck Cost Guide.
That's topic number two.
Truck Cost for 2022 is on the rise…BIGGG TIME!
My friend and client Peter Pazmany at Pazmany Brothers Landscaping sent me a message with the image below.
Fuel prices are going through the roof!
and…
all of our employees are going to be expecting wages to go up to help take care of the increased costs to get to work everyday.
Which means…wages must go up just in time for the busy spring season!
And…
YOUR costs to operate are going up.
And…
You're going to have to raise your prices…
and up, up and away we go climbing the inflation ladder. 
Just in time for our Spring Season…
Gas prices March 5, 2022 – Silicon Valley, CA: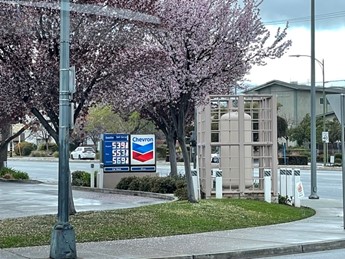 There's going to be a lot of damage done to our economy with these sky-high fuel prices!
I'd say we have 3 to 6 months before we see a pretty dramatic shift in economic activity.
I sure hope you socked away some of that PPP money from 2020 (and/or 2021 for a few of you).
AND…this is a BIG ONE… 
I hope you didn't give up on your lawn maintenance service during the rapid increase in home improvement projects over the last two years.
That dirty little lawn maintenance service may be the best part of your company when this economy slows.
At least, that's been my experience through 4 recessions in 4 decades.
As fast as prices are rising, something gotta give.
Profit Greatly,
Tony Bass, founder
866-923-0027
PS – Just in case you missed it, the Lawn Truck Cost Guide for 2022 can be found here. Watch the recording and see exactly how to adjust your equipment prices with the rising costs of fuel, inflation and finance costs.
When you're ready, there's 3 ways we can help you improve lawn and landscaping profits.
1) Get your copy of The E-Myth Landscape Contractor: Why Most Landscape Companies Don't Work and What To Do About It. Get step-by-step guidance on how systems thinking allows you to build a company that works FOR YOU…not just BECAUSE of you. The video invitation with Michael E. Gerber and Tony Bass is found here: https://landscaperbook.com/ 
2) Get your copy of The Complete Business Manual by Charles Vander Kooi for home study. Limited availability of this book. Limit one book per company. Includes production rates guide and equipment costing. Watch the video invitation with Charles Vander Kooi and Tony Bass by clicking here: https://landscaperbook.com/estimate/ 
3) Get your digital download of the Double Profits Guidebook and video training program by Tony Bass. We teach you the step-by-step process to quickly analyze your recurring service accounts to identify the "D" jobs. The instructions explain what to do if you have no records, poor records or good records. We also provide you a powerfully written price increase letter to help you keep the highly desirable customers. Click here for immediate access. https://superlawntoolkit.com/double/