7-17-21
To: Lawn and Landscape Business Owners
Are you following the formula for maximum profits? OR…are you missing out on the massive money-shift that's all around you?
We are sharing the results from two reports published the past week:
Inflation Update – The Bureau of Labor Statistics (BLS) released its latest report on the USA Consumer Price Index on June 13, 2021. (This is big news my friend.)
The One Question Survey of Lawn & Landscape Business Owners – Initial Results Released below
While the economic past can NEVER predict YOUR financial future with 100% accuracy, studying past trends can give you a good idea of where we are headed. So let's take a look and see if you agree with my analysis.
First – Inflation is red hot!
Here's the BLS:
The Consumer Price Index for All Urban Consumers (CPI-U) increased 0.9 percent in June on a seasonally adjusted basis after rising 0.6 percent in May, the U.S. Bureau of Labor Statistics reported today. This was the largest 1-month change since June 2008 when the index rose 1.0 percent. Over the last 12 months, the all items index increased 5.4 percent before seasonal adjustment; this was the largest 12-month increase since a 5.4-percent increase for the period ending August 2008.
Just in case you have missed our discussion on this inflation subject, the last time our country had 3 consecutive months of 5%+ inflation, our economy nearly collapsed! June through August of 2008. Remember? Gasoline was hitting $4/gallon, millions lost their overpriced homes to foreclosure and hundreds of banks collapsed. Capital was destroyed by the billions!
I'm not saying this is going to happen again in 2021. But…I promise you this…
Your PRICES MUST RISE to meet inflationary cost increases in your company, or your financial future is damned! (I hope you thank me later for reminding you of our recent history.)
Second – Finding, Hiring, Training & Keeping Employees is driving landscape business owners CRAZY!
Last week we conducted our annual ONE QUESTION survey to lawn and landscape business owners. We've been doing this survey each year since 2009. It's one of the ways we keep our fingers on the pulse of the landscaping business owner.
We have ALWAYS asked the same open-ended question in the exact same words. We've NEVER felt it was appropriate to provide you with a multiple-choice list of pre-written answers.
We want to hear YOUR WORDS…your descriptions of the challenge. Here's the powerful question:
What is the single greatest challenge you face in your business today?
Although each and every business owner is in a unique stage of their career as a landscape business owner, the answers to the question show complete clarity of today's biggest challenge.
Here's the data we compiled from responses gathered the week of July 10 to July 16, 2021.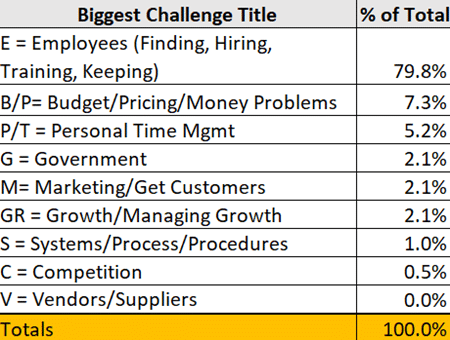 For the third year in a row, the responses are very clear. EMPLOYEES are the single greatest challenge. For some landscape business owners, it's finding them. For others it's hiring them. Some say they can't train them and as soon as they do get them trained, they can't keep them.
Personally, I'm ready to move on past the complaining. Sure, I know that human resources (HR) is a challenge today. Which means…you've got to be willing to do what other employers can't do. You've got to invest time, energy and money to enhance your skills as an employer.
You can't walk around everyday beating on the "I can't find good help" drum.
You must say to yourself, "I'm going to learn how to find good help."
I get it. HR is likely one of the toughest jobs in business today. But think about it like this…
Since 98% of landscape business owners ARE NOT COMPLAINING about getting customers, why not take immediate action to fix your EMPLOYEE problems this way.
Your #1 Priority Starting Monday!
Raise your prices!
Raise your prices by 5% next week.
One week later, do the same thing again.
One week after that, go up another 5%.
The fourth week, you should have raised prices 20% on ALL new work.
Two things happen immediately.
YOU GET A RAISE! (And you deserve it if you're a job creator.)
You'll have more money to pay higher wages in the near future.
Look…
You could choose to say, "I can't find good help"…or "Nobody wants to work"…or "I can't keep good help"…OR "I can't find affordable help". (All of these phrases are taken from our survey.)
And IF that's true in YOUR company…THEN…RAISE YOUR PRICES!
Wages are going up. Face it!
And they should be going up for YOU as well.
I'm here to share the formula for landscaping business success today:
Booming Inflation + Employee Challenges = Raise Your Prices!
Hear me…
The economic conditions of today are unique. When I look across the 34 years I've been a practicing entrepreneur…I have to face the facts. Unless your company was open and doing business between 1973 and 1982, you've NEVER gained experience operating your business with 5%+ ANNUAL INFLATION. (Inflation was over 5% per year for a decade!)
In the past, price increases were frequent. Price increases were BIG.
Unfortunately, many of the landscape business owners that are complaining about employees are AFRAID to raise their prices. And that's TOO BAD. Get over it.
Your gasoline bill has increased 50%. Your labor costs are going up. Your equipment costs are increasing and the stuff you need to grow your business is getting harder to find.
LISTEN…there has NEVER been a better time to raise prices.
And…
There have NEVER been more reasons for you to raise your prices!
And when you do raise your prices…
Please reply to my email and let me know what you learned in the process.
Profit Greatly,
Tony Bass, founder
PS – Have you taken the Wealthy Landscaper Challenge? How does YOUR financial productivity compare to your competitors across town or the Super-Profitable companies across the country? Click here to watch the short video and then take the challenge. www.superlawntoolkit.com/WLPC