Super Lawn Technologies MR-750™ Manual Loading Ramp
Download your PDF copy of the MR-750™ Purchasing Guide below!
If you are purchasing, please complete the forms on pages 2 and 3 and return via email or fax in order for us to complete your order.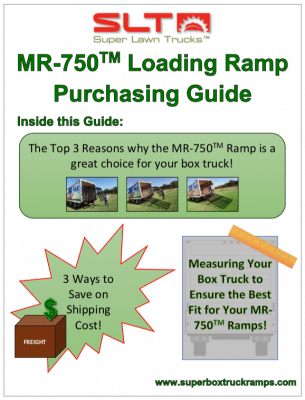 Important: In order for us to fully process your order, we must receive the completed measurement forms and a picture of the rear of your truck along with full payment.
SLT MR750™ – Manual Loading Ramp
39.5″ wide: $1775.00 each
43.5″ wide: $1795.00 each (88″ – 90″ door)
48″ wide: $1850.00 each (102″ door)
Bolt On For Easy Installation
Each Ramp is 10' In Length
Combine Two Ramps For A Combined 1500 Pound Weight Rating
Gas Spring Assisted For Easy Opening And Closing
Installation Instructions Provided With Purchase
The Height Of The Box Bed Should NOT Exceed 40"
Not For Use With Three Wheeled Machines
Manual loading ramp designed for box trucks. All mounting hardware and installation instructions provided.
Once you've placed your order, we can calculate shipping costs according to weight and region where your ramps are being shipped.  If you have a forklift and/or loading dock, rates are discounted so be sure to let us know!
Every box truck has unique rear door measurements. Watch this two part video series and download the MR-750™ Purchasing Guide to help answer all of your questions. Learn how to properly measure your box truck before ordering!
The SLT MR750™ Manual Loading Ramp
The MR-750 makes any Box Truck instantly easier to load and unload and safer for your employees and equipment.
You'll receive the fully assembled folding loading ramp in two weeks or less and be able to install yourself in just a few hours with no welding or specialized tools, guaranteed.
No other ramps combine the width, strength and ease-of-use or fit the rear of the box truck in such a compact way.  Count on one-person operation without straining your back.
The MR-750 may be used to load cargo or equipment up to 750 pounds per ramp.  Install two ramps side-by-side for loading wide wheeled equipment such as lawn mowers.
Install one ramp on the rear of your box truck to allow for fast, safe, walk-in loading and unloading of cargo.  Hand trucks and wheeled carts are safe to use on the MR-750 loading ramp.
Use the MR-750 on flat-bed, stake body or flat dump bodies to make equipment loading fast and safe.
With a variety of ramp widths to choose from, you'll find the perfect MR-750 for your box truck.
Complete, step-by-step installation instructions are provided with your purchase of the MR-750.
We ship the MR-750 fully assembled on a pallet using common carrier freight.
Complete the form on this page and we'll send over an immediate quote.
Thanks for visiting.  We look forward to working for you.
If you need further assistance, check out the frequently asked questions below or feel free to call us at 866-923-0027!