Super Lawn Trucks Parts Store MR-550™ Manual Loading Ramp
Download your PDF copy of the MR-550™ Purchasing Guide below!
If you are purchasing, please complete the forms on pages 2 and 3 and return via email or fax in order for us to complete your order.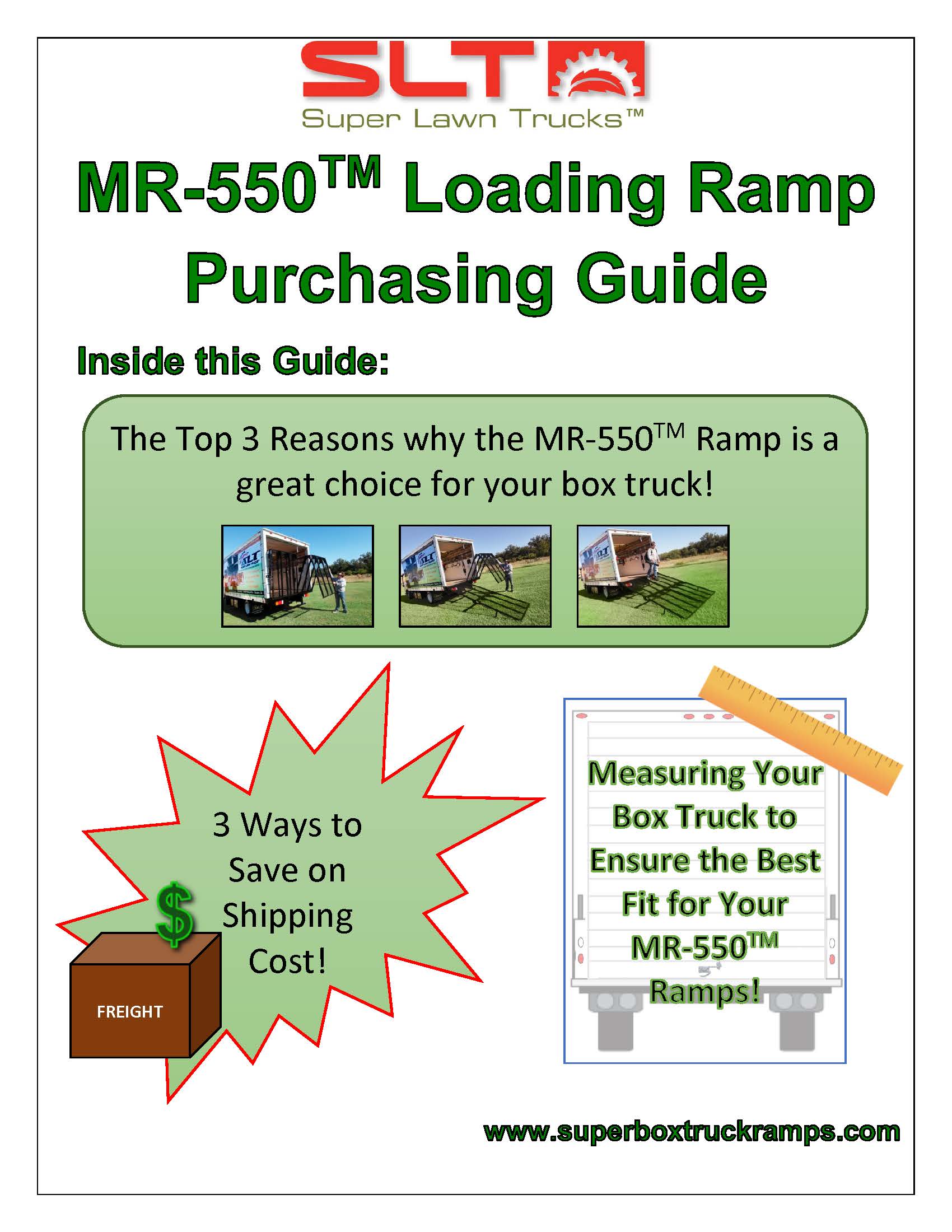 Important: In order for us to fully process your order, we must receive the completed measurement forms and a picture of your truck along with full payment.
MR-550™ – Manual Loading Ramp
30″ wide: $1225.00 each
36″ wide: $1275.00 each

Bolt On For Easy Installation
Each Ramp is 10' In Length
Combine Two Ramps For A Combined 1100 Pound Weight Rating
Gas Spring Assisted For Easy Opening And Closing
Installation Instructions Provided With Purchase
The Height Of The Box Bed Should NOT Exceed 40"
Not For Use With Three Wheeled Machines
Manual loading ramp designed for box trucks. All mounting hardware and installation instructions provided.
Once you've placed your order, we can calculate shipping costs according to weight and region where your ramps are being shipped.  If you have a forklift and/or loading dock, rates are discounted so be sure to let us know!
Super Lawn Technologies MR-550 Manual Loading Ramp is the most affordable, high quality box truck loading ramp in the lawn and landscape industry.
Slightly smaller than its cousin the MR-750, the MR-550 is designed specifically for box trucks with a bed height no more than 40 inches.
Each MR-550 Loading Ramp is rated for 550 pounds so combining two ramps gives you a hefty 1,100-pound weight capacity!
Gas springs assist in easy opening and closing, speeding up loading and unloading.
Extending to ten feet, the MR-550 folds up tightly to the truck in the closed position making it safer and much more convenient during transport.
The MR -550 is available fully assembled in either 30-inch or 36-inch widths and easily installs in under an hour with just a few simple shop tools.
Full written and video instructions are included with your purchase!
If you need further assistance, check out the frequently asked questions below or feel free to call us at 866-923-0027!